Hp Sprout Pro Core i7-6700 3.2GHz 8GB RAM, 1TB(1000GB), Nvidia GeForce
Roll over image to zoom in
Click to open expanded view
The Sprout Pro by Hewlett Packard is a high-performance All-In-One computer with an upgraded 6th generation Intel Core i7-4790S processor clocking at3.6GHz and 8GB of RAM enabling you to get more tasks done at the same time is a decent desktop in its own right with a mammoth 1TB (1000GB) of storage, and Free DOS operating system. You can also buy a Genuine Windows 10 Pro for increased performance from Rondamo Technologies.
Create Rich Content & Document Work
Sprout Pro's combination of touch interfaces, multimedia apps and built-in camera feeds make it an ideal tool for project-based learning and creative, media-rich documentation. Flipped classroom: Enable remote learning and empower student-led video documentation with a web-cam, downward-facing camera and dual-screens that can showcase physical objects and multiple environments simultaneously.
ePortfolios
Capture, record and revise material for student self-assessments with Sprout Pro's easy manipulation of 2D and 3D objects, video capture tools and other creative apps. Create rich presentations using videos, add sketches with the Stylus, and instantly scan 2D or 3D objects for yearbooks, marketing flyers and other expressive projects. Draw comfortably on Sprout Pro's natural and paper-like touch mat. Use the included Stylus to annotate or sketch in an ergonomic manner.
Immense Power for Collaborative Engagement
Sprout Pro by HP has plenty of power to handle everything from the office to the studio. It comes with enhanced collaboration and sharing software that works with the dual screen experience, 20-point Touch Mat, dual video feeds and integrated 2D and 3D scanning. Sprout Pro by HP is the all-in-one computer built to help learners and educators work, explore and reinvent together. It encourages collaborative engagement, creativity and project-based learning for an immersive educational experience.
Easily Bring Your Ideas to Life
Sprout Pro by HP's breakthrough technology blends the physical and digital worlds. The HP Illuminator includes a 14 Megapixel High-Res camera, an Intel® RealSense™ 3D camera and a built-in projector displaying on a 20-point Touch Mat. When combined with simple yet powerful editing tools, Sprout Pro lets you quickly and easily bring your ideas to life. The Touch Mat is a 20-point touch mat with projected display area made of durable material that is easy to clean, enables ergonomic annotation, creative drawing and note taking. It is ideal for group work and easily accessible for younger ages
Groundbreaking User Interface
Sprout Pro by HP gives you a unique hands-on way to control and create with the power of touch. The two touch surfaces work together to transform your desk's surface into a digital-physical workspace. It's designed for a more intuitive, natural way to work without having to use a keyboard or mouse.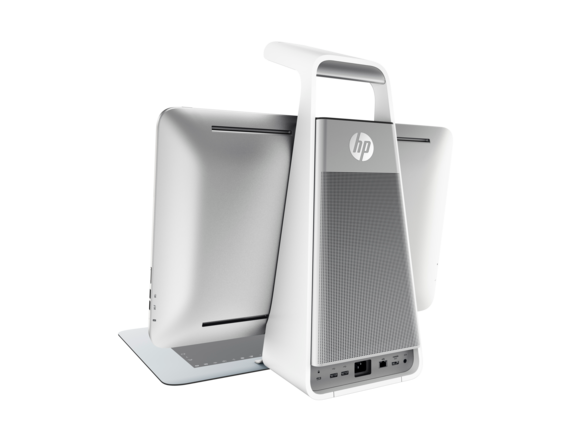 Secondary Horizontal Display
The HP touch mat is essential to the Sprout experience. It is a secondary horizontal display and enables a more natural interaction with the Sprout system. The surface also serves as a scan bed for both 2D and 3D capture. Strong presentation skills are paramount to future success in college and the workforce.Sprout Pro's dual cameras and large touch screens – combined with optional apps – enhance the way teachers' present and students' showcase their work.

Profound Technology for Powerful Learning
Dissect a frog on the touch mat or zoom in on a fungal sample with the Magnifier App. Present monitor and camera feeds to the whole class simultaneously with External Display Mixer. Or share remotely in real-time with optional apps like Sprout companion for Skype™ for Business3. Give students the tools to present themselves and their work in new, engaging ways. With Sprout companion for Skype™ for Business, students can switch between the webcam and downward-facing camera instantly and perform 2D captures during calls. Encourage deep understanding, thought explanation and creative expression through storytelling with the Stop Motion4 app. Capture individual frames easily to compile a fun, unique video with images, music, custom backgrounds and more.
Effortless Collaboration
The Sprout Companion for Skype™ for Business enhances the experience of Skype™ on Sprout Pro by HP. Select between the Sprout camera inputs to show a video feed of your face or a physical object held over the mat. Perform a Sprout 2D capture during a Skype™ meeting which participants can view as an attachment. Move the Skype Meeting window between the vertical and horizontal displays with a single click which is great for marking on the Skype™ whiteboard using the stylus on the Touch Mat.
Snap Dock and Ports
The Touch Mat connects easily with a magnetic dock at Sprout's base. Three dedicated touch buttons let you easily control the keyboard, workspace and projector.
Introducing The Sprout Illuminator
The column is called the Sprout Illuminator, and it contains several technologies. First, it's a projector, with a DLP projector built into the rear column that projects up, onto a mirror that puts the displayed image squarely onto the touch mat. There's also a high-resolution, 14.6-megapixel camera, which captures images clearly enough to use as a document scanner. The HP Illuminator, powered by the HP DLP Projector, the HP High-Resolution Camera with up to 14.6 megapixel resolution and the Intel® RealSenseTM 3D Camera for instant capture of 2D and 3D objects, along with an LED desk lamp.
NVIDIA GeForce GT 745A
The system is also outfitted with an Nvidia GeForce GT 745A graphics card, giving it the graphics oomph to handle tasks like mapping data point clouds for rendering 3D scans. While the GeForce GT series isn't meant to provide gaming support, the overall performance isn't bad, completing 3DMark Cloud Gate with a score of 9,390 points, and Fire Strike Extreme with 732 points.
General Specifications
Intel Core i7-6700-3.6GHz
8GB RAM, 1TB (1000GB) SSHD
Nvidia GeForce GTX
Free DOS
23" LED backlit LCD display
Order From Rondamo Technologies and Receive the item within 24 Hrs Countrywide