Categories: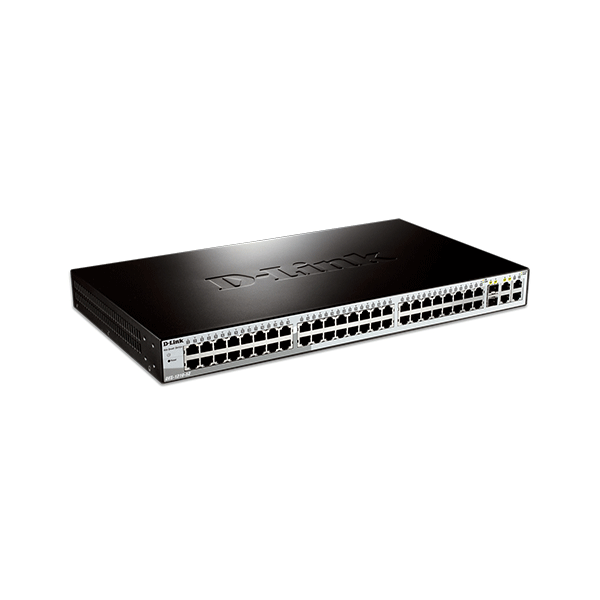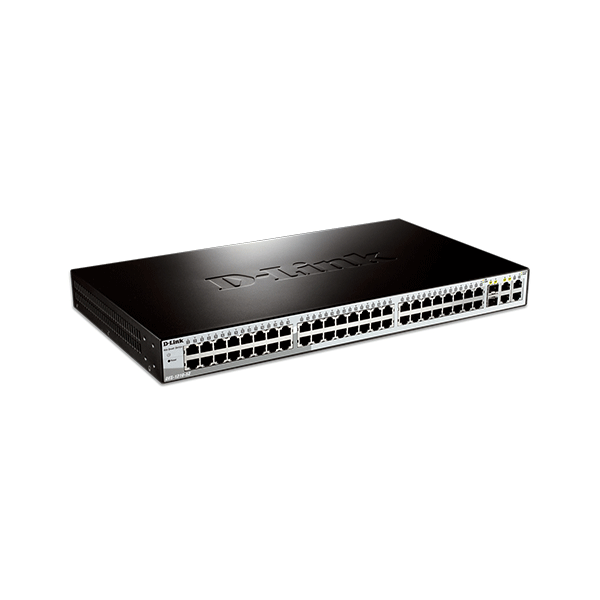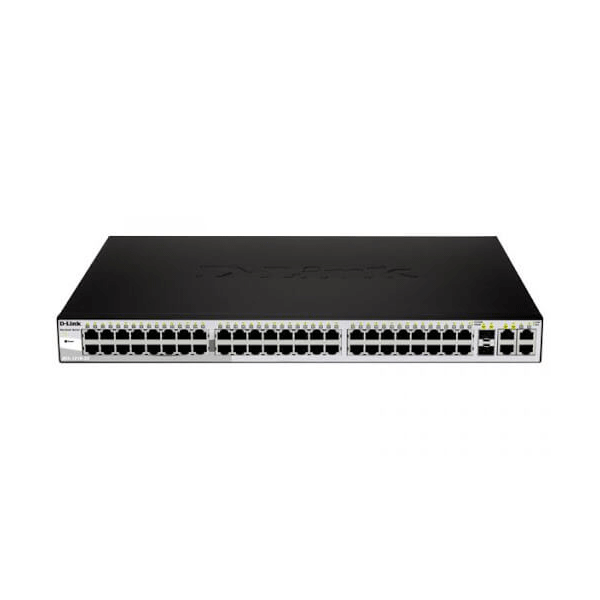 48-port 10/100baset + 2-port 10/100/1000mbps copper + 2 combo copper/sfp smart switch (des-1210-52)
Fast Shipping




24 Hrs Delivery All Over Kenya
Warranty




Warranty on All Products
Secure Payment




Pay Via Mpesa & Bank Transfer
Largest Range




Best Brands & laptops
48-port 10/100baset + 2-port 10/100/1000mbps copper + 2 combo copper/sfp smart switch (des-1210-52)
• 48 port 10/100 base-t poe switch with 2 x 10/100/1000 base-t ports
• support 2 x 10/100/1000 base-t/sfp combo slots
• ieee 802.1q virtual lan (vlan)
• support igmp and mld snooping
• support auto surveillance and auto voice vlan
• broadcast, unicast and multicast storm control
• support smart ip-mac-port binding
• support ieee 802.1p qos and cos
• 802.1x port-base authentication through radius servers
show more
48-port 10/100baset + 2-port 10/100/1000mbps copper + 2 combo copper/sfp smart switch (des-1210-52) details
the des-1210 series is the latest generation of d-link web smart switches. equipped with 24 or 48 10/100 mbps ports, 2 10/100/1000base-t ports, and 2 combo 10/100/1000base-t/sfp ports, the des-1210 series integrates advanced management and security functions for enhanced performance and scalability. the des-1210-08p/28p are built with 10/100 mbps ports that are poe-enabled, offering ease-of-use and green features such as timebased poe, which can shut off poe power at a predetermined time. the smart fan feature on the des-1210-28p allows the built-in fans to automatically turn on at a certain temperature, providing continuous, reliable, and eco-friendly operation of the switch. compliant with 802.3af and 802.3at, the des-1210-28p is capable of feeding power of up to 30 watts to devices. management options include snmp, web management, smartconsole utility, and compact command line for easy deployment. the des-1210 series provides a complete and affordable solution that is ideal for small and medium businesses and the enterprise edge.
seamless integration
the web smart switches are designed to provide smb users with complete control over their network. with ethernet and gigabit copper ports capable of connecting to existing cat5 twisted-pair cables, these switches eliminate the need for complex reconfiguration. the des-1210 series allows for flexible connection to a backbone or server. additionally, all ports support auto-negotiation of mdi/mdix crossover, eliminating the need for crossover cables or uplink ports.
extensive layer 2 features
equipped with a complete lineup of l2 features, these switches include igmp snooping, port mirroring, spanning tree, and link aggregation control protocol (lacp). ieee 802.3x flow control allows servers to directly connect to the switch for reliable data transfer. at 2000 mbps full-duplex, the gigabit ports provide high-speed data pipes to servers with minimum data transfer loss. network maintenance features include loopback detection and cable diagnostics. loopback detection is used to detect loops created by a specific port and automatically shuts down the affected port. cable diagnostics allow network administrators to quickly examine the quality of the copper cables and also determine the type of cable error.
qos & bandwidth control
the des-1210 series switches support auto surveillance vlan (asv) and auto voice vlan for voip and video surveillance deployments. asv ensures the quality of real-time video for monitoring and control without compromising the transmission of conventional network data. dscp markings on ethernet packets enable different levels of service to be assigned to network traffic. in addition, with bandwidth control, network administrators can reserve bandwidth for important functions that require more bandwidth or require high priority.
secure your network
d-link's innovative safeguard engine protects against traffic flooding caused by virus attacks. these switches also support 802.1x port-based authentication, allowing the network to be authenticated through external radius servers. in addition, the access control list (acl) feature enhances network security and protects the internal it network. the des-1210 series supports arp spoofing prevention, which prevents the network from being cut off or eavesdropped by hackers using faked arps that pretend to be pcs, servers, routers, or gateways. for added security, dhcp server screening screens rogue dhcp server packets from user ports to prevent unauthorized ip assignment.
versatile management
this new generation of web smart switches provides growing businesses with simple and easy management of their network by using an intuitive smartconsole utility and a web-based management interface that enables administrators to remotely control their network down to the port level. the smartconsole allows customers to easily discover multiple d-link web smart switches within the same l2 network segment. with this utility, users do not need to change the ip address of their pc and it also provides an easy setup of the smart switches. switches within the same l2 network segment that are connected to the user's local pc are displayed on screen for instant access. this allows for extensive switch configuration settings and basic configuration (password changes and firmware upgrades) of discovered devices.
the des-1210 series supports d-view 6.0 and compact command line interface (cli) control through telnet. d-view 6.0 is a network management system that allows for central management of critical network characteristics and provides a useful set of tools for network administrators who want to effectively manage device configurations, fault tolerance, performance, and security. cli management of switches is possible via telnet, and allowing administrators to perform basic operations such as password changes, firmware upgrades, and configuration file uploads.
Payment Details
Cash Payments (Nairobi only)
We accept Cash Payments . This is applicable for Pay on Delivery orders within Nairobi Metropolitan area.
Mpesa Payment.
Go to Safaricom SIM Tool Kit, select M-PESA menu, select "Lipa na M-PESA"
Select "Pay Bill"
Select "Enter Business no.", Enter Rondamo technologies Lipa na M-PESA PayBill Number 964586 and press "OK"
Account no. ( Indicate Order No. & Your Name)
"Enter Amount : ( Total shown on Invoice)
Enter your M-PESA PIN and press "OK"
This is applicable for all orders, both in Nairobi & upcountry besides large orders over Ksh 250,000/-
Bank Deposit /EFT
You can deposit payment for your order directly into our Stanbic bank account. We check our bank account for new payments every day but depending on your bank it can take 1–2 business days for your payment to appear. To ensure that we can reconcile your payment quickly please make sure you follow the instructions carefully and include a reference with your payment.
Pesalink
You can deposit payment for your order directly into our Stanbic bank account via Pesalink. all products are eligible for payment via Pesalink. To ensure that we can reconcile your payment quickly please make sure you follow the instructions carefully and include a reference with your payment.
Warranty Info (1 Year)
The warranty tendered hereunder, on the electronic product(s) sold under this invoice will be provided exclusively by their respective Authorized Agents/Distributors and are limited to one year from the date of this invoice, except otherwise mentioned as per the warranty conditions as carried along with the products(s) or mentioned on Rondamo Technologies Invoice
Delivery Terms
Accurate delivery estimates are displayed on the product page and in the Checkout before you confirm your order.
Delivery estimates take into consideration both the delivery address and the types of products being ordered.
The remainder of this article discusses delivery times in more general terms.
Same Day Delivery / For Customers in Nairobi Metropolitan Area
We use Courier for these orders, which allows fast and reliable delivery to destinations across their comprehensive domestic network. Orders placed between 7 Am and 5 Pm will be delivered the same day otherwise they will be delivered the following day. Delivery times vary depending on a product's stock status and the intended delivery address. For very large orders, we may be forced to use Mainfreight as these orders lie outside of what Courier Rider services can handle. If your order is being shipped with Mainfreight, this will be indicated in your fulfilment email along with a tracking number.
Overnight Delivery
Most In stock products are delivered overnight anywhere in Kenya – provided the order is placed before the advertised cut-off time. Our Overnight Delivery cut-off is usually 4:30pm Monday to Friday, however, this is updated daily and the expected shipping date will be shown for you on the product page. Larger products take an additional 1–2 days to be delivered.
Evening Express Delivery
Same Day Delivery is available to Nairobi & its suburbs. Same Day Delivery orders are delivered between 4pm and 7pm in the evening on the same day your order is dispatched.
If you are ordering on a business day and before the cutoff time, the option will be called "Same Day Delivery". If you are ordering after the cutoff time or on a weekend or public holiday, the option will be called "Evening Express Delivery". And May incur extra Costs other than the standard shipping fee.