Categories: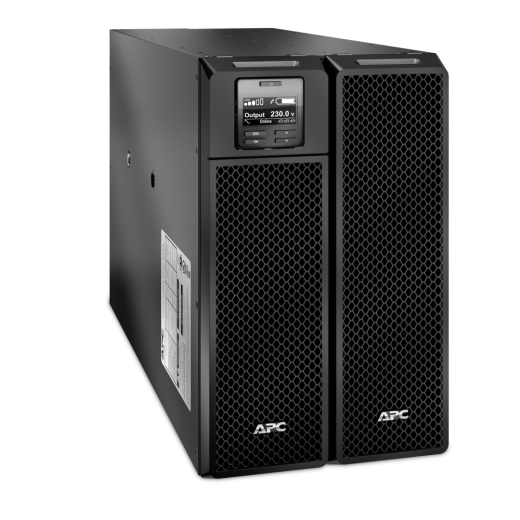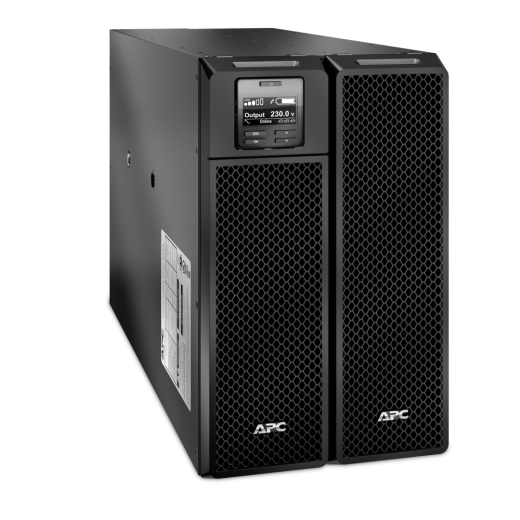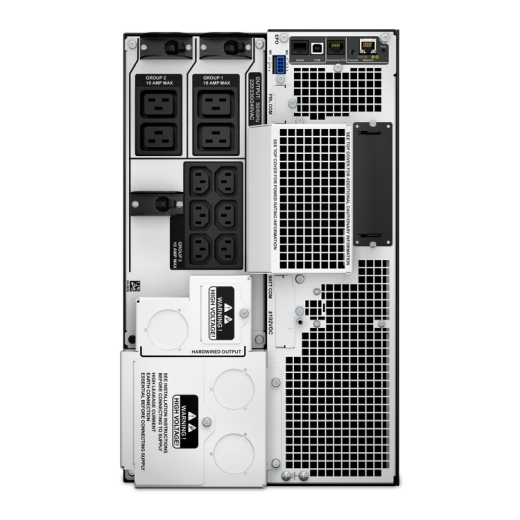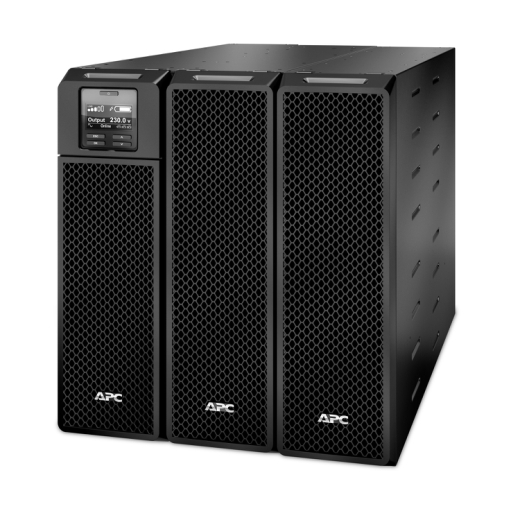 Fast Shipping




24 Hrs Delivery All Over Kenya
Warranty




Warranty on All Products
Secure Payment




Pay Via Mpesa & Bank Transfer
Largest Range




Best Brands & laptops
APC Smart-UPS SRT 10000VA 230V (SRT10KXLI)
Output power capacity: 10.0kWatts / 10.0kVA
Output Connections: (6) IEC 60320 C13 (Battery Backup)
(6) IEC 320 C13 (Battery Backup)
(4) IEC 320 C19 (Battery Backup)
(1) Hard Wire 3-wire (H N + G) (Battery Backup)
(4) IEC 60320 C19 (Battery Backup)
(3) IEC Jumpers (Battery Backup)
Nominal Output Voltage: 230V
Nominal Input Voltage: 230V, 400V 3PH
Input Connections: Hard wire 3-wire (1P + N + E), Hard wire 5-wire (3P + N + E)

APC Smart-UPS SRT 10000VA 230V
High density, double-conversion on-line power protection with scalable runtime.

Battery failure notification
Provides early-warning fault analysis on batteries enabling timely preventive maintenance
Patent-pending operating mode that bypasses unused electrical components in good power conditions to achieve very high operating efficiency without sacrificing any protection.
Text and mimic diagrams that display modes of operation, system parameters and alarms.
show more
APC Smart-UPS SRT 10000VA 230V (SRT10KXLI) details
Output
Max Configurable Power (Watts)10.0kWatts / 10.0kVA
Output Voltage DistortionLess than 2 %
Output Frequency (sync to mains)50/60 Hz +/- 3 Hz Sync to mains
Other Output Voltages220 V, 240 V
Load Crest Factor3 : 1
TopologyDouble conversion online
Waveform typeSine wave
BypassInternal bypass (automatic and manual)
Input
Input frequency40 - 70 Hz Auto-sensing
Input voltage range for main operations100 - 275 Adjustable (half load), 160 - 275, 173 - 476 Adjustable (half load)V
Other Input Voltages220 V, 240 V, 380 V, 415 V
Batteries & Runtime
Battery typeLead-acid battery
Typical recharge time1.5hour(s)
Nominal Battery Voltage+/- 192 V (split battery referenced to neutral)
Replacement BatteryAPCRBC140
Expected Battery Life (years)3 - 5
RBC Quantity2
Battery Charge Power (Watts)1.195kWatts
Extendable Run Time1
Extended Run OptionsAPC-Smart-UPS-SRT-10000VA-230V
RuntimeView Runtime Graph
View Runtime Chart
EfficiencyView Efficiency Graph
Communications & Management
Interface Port(s)RJ-45 10/100 Base-T, RJ-45 Serial, Smart-Slot, USB
Control panelMultifunction LCD status and control console
Audible AlarmAudible and visible alarms prioritized by severity
Emergency Power Off (EPO)Yes
Available SmartSlot™ Interface Quantity1
Surge Protection and Filtering
Surge energy rating480Joules
Smart-UPS On-Line Features & Benefits
Serviceability
User-replaceable batteriesIncreases availability by allowing a trained user to perform upgrades and replacements of the batteries reducing Mean Time to Repair (MTTR)
Predictive failure notification.Provides early-warning fault analysis ensuring proactive component replacement.
Disconnected battery notificationWarns when a battery is not available to provide backup power.
Automatic self-testPeriodic battery self-test ensures early detection of a battery that needs to be replaced.
Audible alarmsProvides notification of changing utility power and UPS power conditions
Protection
Frequency and voltage regulationGives higher application availability by correcting poor frequency and voltage conditions without using the battery.
Safety-agency approvedEnsures the product has been tested and approved to work safely with the connected service provider equipment and within the specified environment.
Resettable circuit breakerEasy recovery from overloads; no need to replace a fuse. (Not available on Wall Tap SKUs)
Cold-start capableProvides temporary battery power when the utility power is out.
Input Power Factor CorrectionMinimizes installation costs by enabling the use of smaller generators and cabling.
Generator compatibleEnsures clean, uninterrupted power to protected equipment when generator power is used.
Power conditioningProtects connected loads from surges, spikes, lightning, and other power disturbances.
Marketing features
Save time with easy and convenient remote/network accessibility.Network manageable via serial, USB or Ethernet. Includes Powerchute® Software for convenient monitoring and control, safe operating system shutdown, and innovative energy management capabilities.
Peace of mind that comes with full equipment compatibility and reliability of a leaderProvides pure sine wave output which is recommended by server manufacturers using active power factor corrected (PFC) power supplies. Safety agency tested and approved means that you can deploy Smart-UPS with confidence that they meet or exceed the industry's most rigorous standards.
Low operating and maintenance costs with proven reliability and intelligent battery management .Intelligent battery management, pioneered by APC, maximizes battery performance and life through intelligent, precision temperature compensated charging. Automatic self tests insure battery reliability and warn customers in advance of battery replacement. Convenient, easy to connect, hot-swappable battery modules provide battery replacement without powering down.
Avoids costly power problems by keeping your IT equipment and data protected and available .Network grade power conditioning protects from damaging surges and disruptive noise. The double conversion architecture provides tight voltage regulation, frequency regulation ,and zero transfer time to battery during power events.
Manageability
InfraStruXure Manager CompatibleEnables centralized management via the APC InfraStruXure Manager.
SmartSlotCustomize UPS capabilities with management cards.
Serial connectivityProvides management of the UPS via a serial port.
LED status indicatorsQuickly understand unit and power status with visual indicators.
Network manageableMost models provide remote power management options of the UPS over the network. Many do not have NMC embedded.
Adaptability
Plug-and-Play external batteriesEnsures clean, uninterrupted power to the loads when adding extra runtime to the UPS.
Flash upgradeable firmwareInstall maintenance releases of firmware remotely using FTP.
Rack/Tower convertibleProtects the initial investment in the UPS when migrating from tower to rack-mount environment.
Availability
Temperature-compensated battery chargingProlongs battery life by regulating the charge voltage according to battery temperature.
Automatic internal bypassSupplies utility power to the connected loads in the event of a UPS power overload or fault.
Hot-swappable batteriesEnsures clean, uninterrupted power to protected equipment while batteries are being replaced
Automatic restart of loads after UPS shutdownAutomatically starts up the connected equipment upon the return of utility power.
Scalable runtimeAllows additional run time to be quickly added as needed.
Intelligent battery managementMaximizes battery performance, life, and reliability through intelligent, precision charging.
Payment Details
Cash Payments (Nairobi only)
We accept Cash Payments . This is applicable for Pay on Delivery orders within Nairobi Metropolitan area.
Mpesa Payment.
Go to Safaricom SIM Tool Kit, select M-PESA menu, select "Lipa na M-PESA"
Select "Pay Bill"
Select "Enter Business no.", Enter Rondamo technologies Lipa na M-PESA PayBill Number 964586 and press "OK"
Account no. ( Indicate Order No. & Your Name)
"Enter Amount : ( Total shown on Invoice)
Enter your M-PESA PIN and press "OK"
This is applicable for all orders, both in Nairobi & upcountry besides large orders over Ksh 250,000/-
Bank Deposit /EFT
You can deposit payment for your order directly into our Stanbic bank account. We check our bank account for new payments every day but depending on your bank it can take 1–2 business days for your payment to appear. To ensure that we can reconcile your payment quickly please make sure you follow the instructions carefully and include a reference with your payment.
Pesalink
You can deposit payment for your order directly into our Stanbic bank account via Pesalink. all products are eligible for payment via Pesalink. To ensure that we can reconcile your payment quickly please make sure you follow the instructions carefully and include a reference with your payment.
Warranty Info (1 Year)
The warranty tendered hereunder, on the electronic product(s) sold under this invoice will be provided exclusively by their respective Authorized Agents/Distributors and are limited to one year from the date of this invoice, except otherwise mentioned as per the warranty conditions as carried along with the products(s) or mentioned on Rondamo Technologies Invoice
Delivery Terms
Accurate delivery estimates are displayed on the product page and in the Checkout before you confirm your order.
Delivery estimates take into consideration both the delivery address and the types of products being ordered.
The remainder of this article discusses delivery times in more general terms.
Same Day Delivery / For Customers in Nairobi Metropolitan Area
We use Courier for these orders, which allows fast and reliable delivery to destinations across their comprehensive domestic network. Orders placed between 7 Am and 5 Pm will be delivered the same day otherwise they will be delivered the following day. Delivery times vary depending on a product's stock status and the intended delivery address. For very large orders, we may be forced to use Mainfreight as these orders lie outside of what Courier Rider services can handle. If your order is being shipped with Mainfreight, this will be indicated in your fulfilment email along with a tracking number.
Overnight Delivery
Most In stock products are delivered overnight anywhere in Kenya – provided the order is placed before the advertised cut-off time. Our Overnight Delivery cut-off is usually 4:30pm Monday to Friday, however, this is updated daily and the expected shipping date will be shown for you on the product page. Larger products take an additional 1–2 days to be delivered.
Evening Express Delivery
Same Day Delivery is available to Nairobi & its suburbs. Same Day Delivery orders are delivered between 4pm and 7pm in the evening on the same day your order is dispatched.
If you are ordering on a business day and before the cutoff time, the option will be called "Same Day Delivery". If you are ordering after the cutoff time or on a weekend or public holiday, the option will be called "Evening Express Delivery". And May incur extra Costs other than the standard shipping fee.