Categories: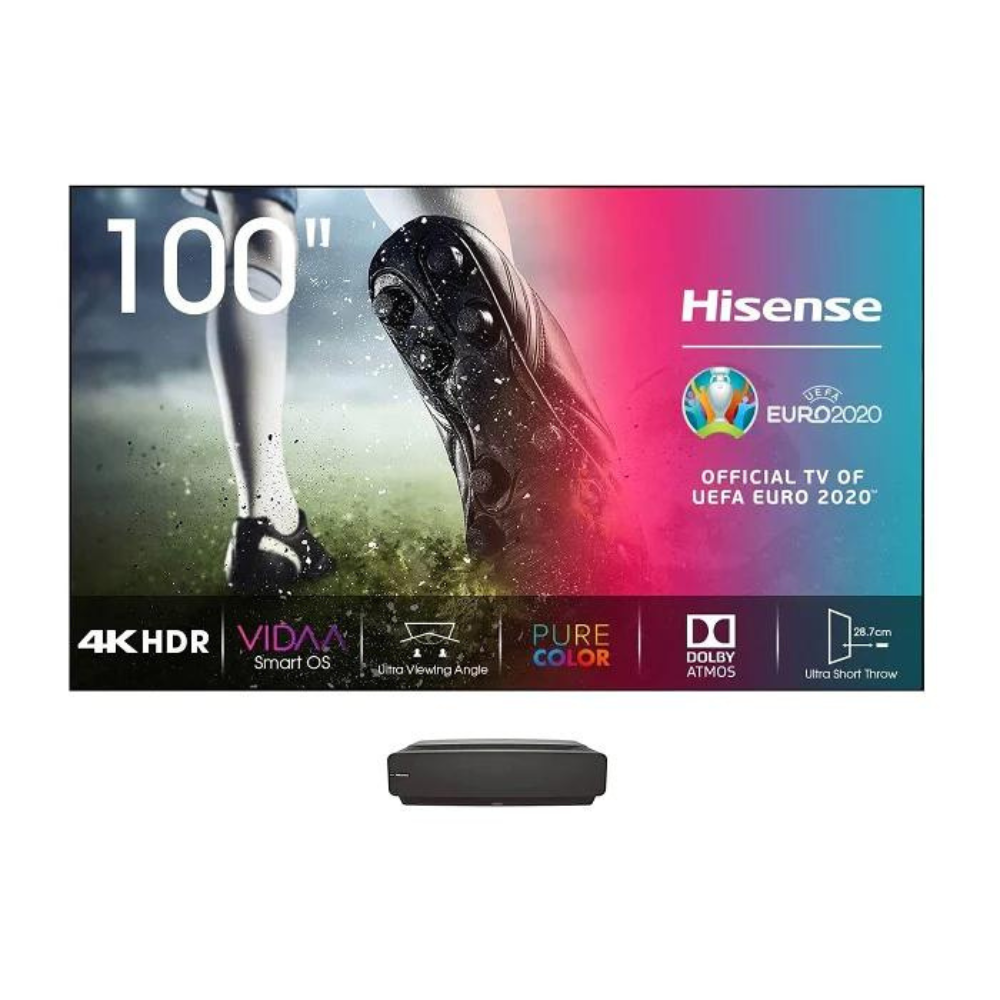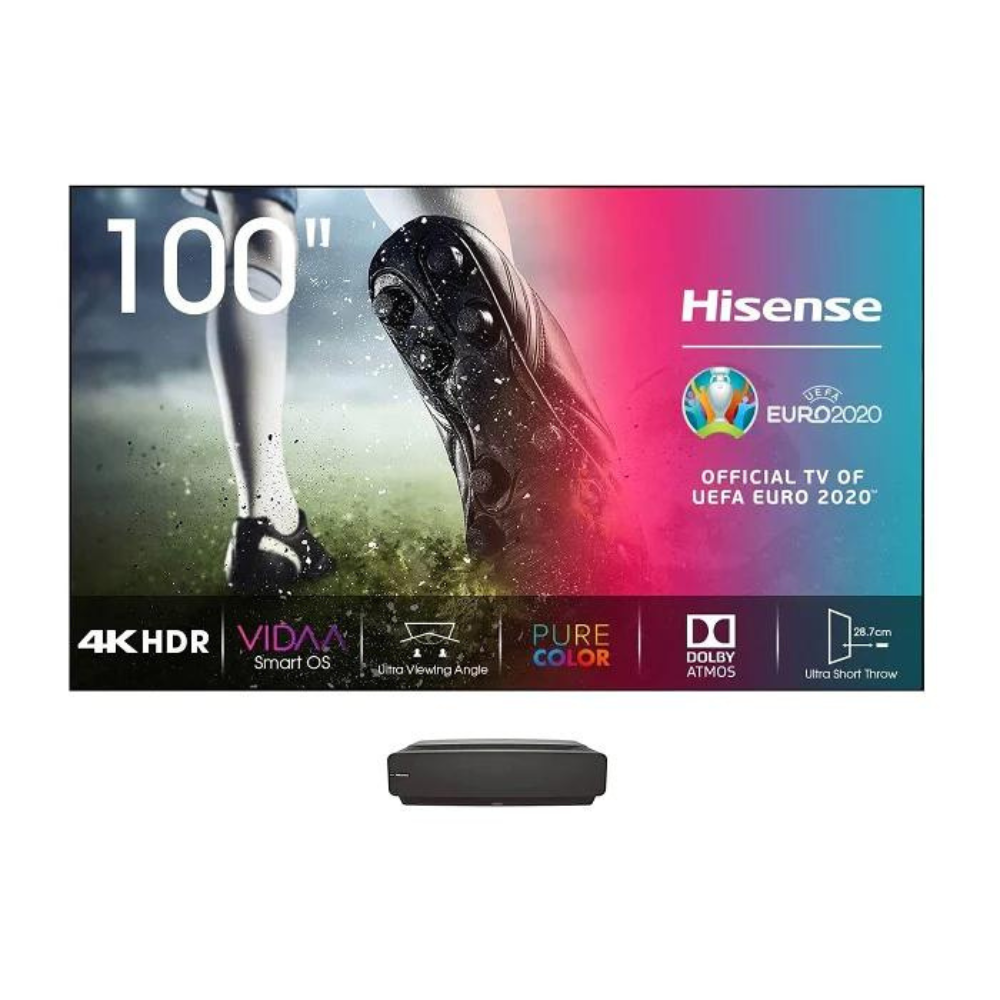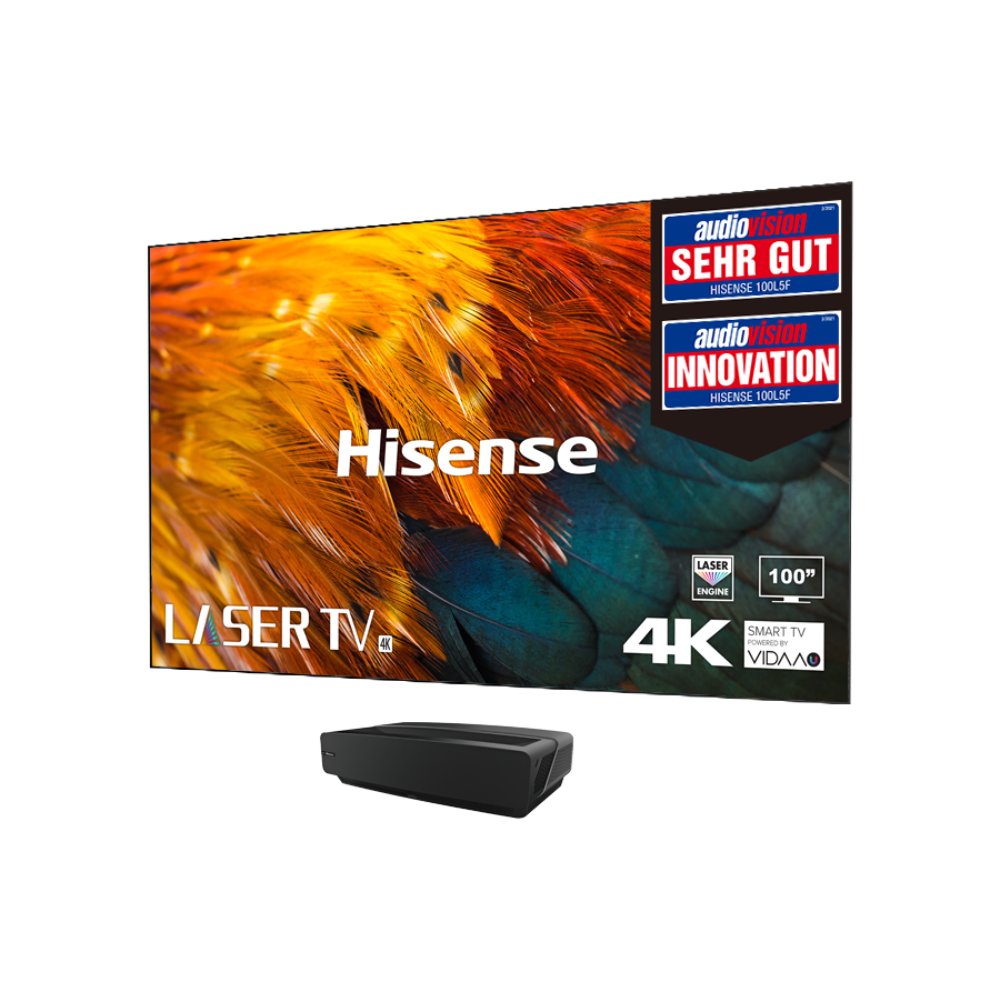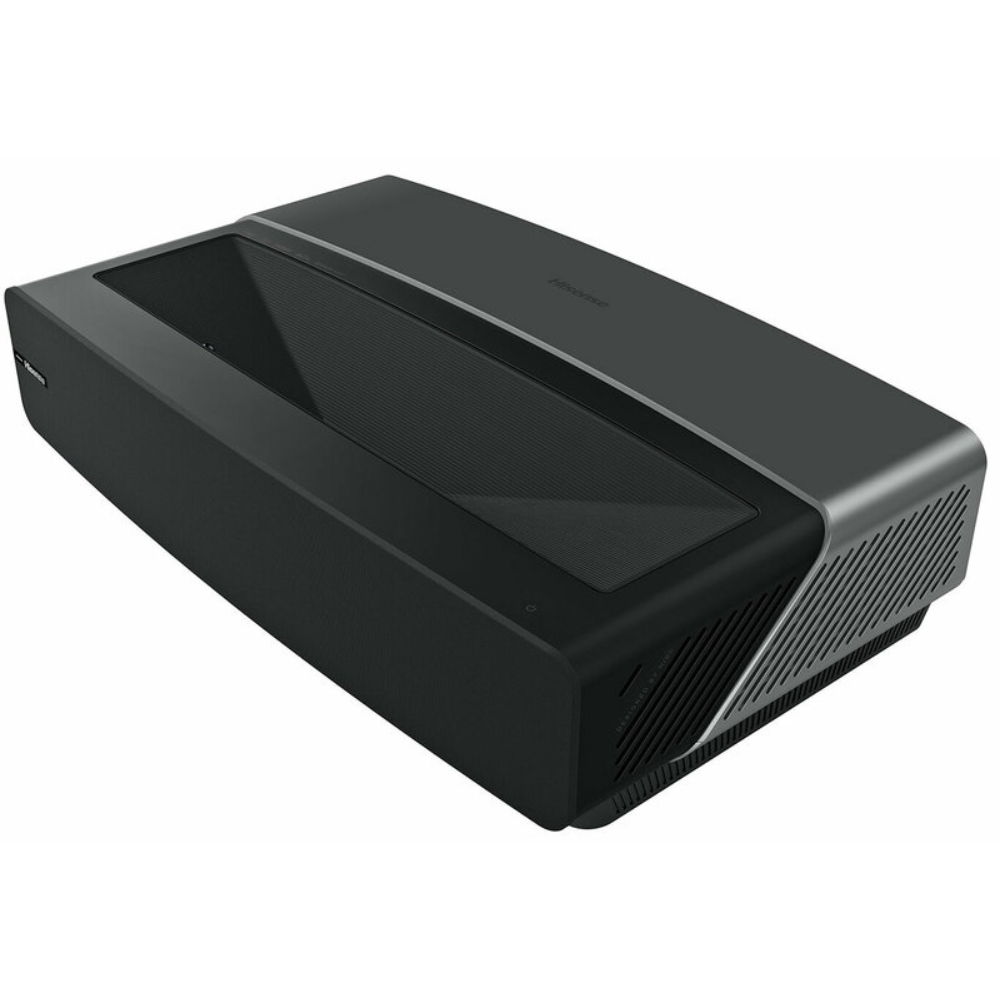 Fast Shipping




24 Hrs Delivery All Over Kenya
Warranty




Warranty on All Products
Secure Payment




Pay Via Mpesa & Bank Transfer
Largest Range




Best Brands & laptops
Hisense 4K Ultra HD HDR Laser TV 100″ – HE100L5
Specifications
4K Picture Quality
Smart TV
Pure Color
HDR Compatibility
Laser Engine
Smooth Motion
Safety Sensor
Ultra Short Throw Laser
Liquid Cooling Technology For Efficient & Noise Free Cooling
JBL Built In Speaker And Wireless Subwoofer
TV Tuner100"4K LASER TV | 100LN60D
show more
Hisense 4K Ultra HD HDR Laser TV 100″ – HE100L5 details
Hisense 4K Ultra HD HDR Laser TV 100″ – HE100L5
The 100-inch screen is the largest component in terms of area, but the projector is by far the most massive. It's a 7.3-by-23.7-by-15.8-inch (HWD) short-throw projector dominated by a glossy black panel on the top and a black cloth speaker grille on the front. The grille covers a 50W (25W per channel) Harman Kardon stereo speaker system that, combined with the included subwoofer, gives the TV some very powerful sound. The lens sits in a tapered recess on the top panel, angled up and forward. A metal band runs at an angle around the sides of the projector, creating a silver lip near the bottom front and forming a spoiler-like raised section near the top back.
The Hisense 100L5 isn't exactly your average TV. This much becomes obvious as soon as you clock the fact that it gives you a massive 100-inch screen for less money than many regular 75-inch TVs.
The main reason it can offer so many inches for your buck is that it's not strictly speaking a TV. Rather it's an ultra-short throw projector combined with a rigid 100-inch projection screen that's designed to reject ambient light, so that you don't have to black your room out every time you want to watch it.
The projector is a DLP affair illuminated by laser lighting, meaning that it can go brighter and reach a wider range of colors than regular lamp projectors. It also won't need its laser replacing in the course of its lifetime unlike lamp projectors, and also unlike regular projectors can be switched more or less immediately, without significant warmup or cooldown time.
DESIGN & BUILD
The Hisense 100 inch Laser TV series is a TV built with beat quality features, it is designed with a seamless unibody which is a one-piece chassis. The body has a very thin grey micro bezel with a central stand that has integrated cable management.
At the backside of the TV, with a comprise of up to four HDMI v2.0 inputs. All the HDMI ports are capable of giving 4K@60fps videos. The other port is a plus AV port for legacy gear and a digital audio optical output. There are also two USB ports and an Ethernet connection for wired networking.
The Hisense 100 inch Laser TV remote comes with dedicated shortcut buttons. There's Netflix, YouTube, Prime Video, Rakuten TV, Freeview Play, and YouTube Music. There are also three designated buttons for Media, Free, and Art.
SMART FEATURES
The TV runs the smart option using Hisense's Vidaa smart platform. It's relatively lean and means with amazing features and apps that are fast to use.
The Vidaa platform is a fourth-generation version that features a new kind of launcher with a newly improved View bar. The apps display key apps on the display.
Apps like Netflix and YouTube are the first on the interface which is integrated and can launch straight into your profile from the Vidaa homepage.
The Smart TV has the following apps, Netflix, BBC iPlayer, ITV Hub, All4, My5, YouTube, Amazon Prime Video, Britbox, Rakuten TV, and YouTube Kids.
PICTURE PERFORMANCE
The A7500F is a large 100-inch screen with a 4K UHD resolution at 3840×2160 pixel count.
The TV picture mode comprises Standard, Dynamic, Game, Cinema Night and Cinema Day, and Sport mode. The Sport mode has a unique AI that triggers and activates whenever sports content is detected. The AI plays fast and loose with sport mode, experience deeming during afternoon games shows resulting in some over-saturated looking pictures.
The other area where the Hisense A7500F surpasses its expectation is in its gaming performance. The TV cites better than 20ms input lag which is really great for displaying fast performance games.
LASER TV
Laser TV is now new, big, bold, and beautiful. With Laser technology, every seat in your house is the best seat as the angles of the TV stretch out wide.
The Hisense 4K UHD Smart Laser TV has a wide Color Gamut with features a dual-color laser that displays a cinema-like picture. The display has unique vibrant colors with a true-to-life image, shown on ambient light rejection screens for an immersive home theater experience. In addition, with Harman Kardon sound infused on the laser projector.
The laser TV has an Ambient Light Rejection Screen. The ambient light rejection (ALR) screen displays bright and very clear motion frames with any type of lighting.
LASER ENGINE
Combines DLP Theater Technology and Hisense patented technology to provide laser-focused detail and brightness, once only seen in a cinema, now available for any room in your home.
Payment Details
Cash Payments (Nairobi only)
We accept Cash Payments . This is applicable for Pay on Delivery orders within Nairobi Metropolitan area.
Mpesa Payment.
Go to Safaricom SIM Tool Kit, select M-PESA menu, select "Lipa na M-PESA"
Select "Pay Bill"
Select "Enter Business no.", Enter Rondamo technologies Lipa na M-PESA PayBill Number 964586 and press "OK"
Account no. ( Indicate Order No. & Your Name)
"Enter Amount : ( Total shown on Invoice)
Enter your M-PESA PIN and press "OK"
This is applicable for all orders, both in Nairobi & upcountry besides large orders over Ksh 250,000/-
Bank Deposit /EFT
You can deposit payment for your order directly into our Stanbic bank account. We check our bank account for new payments every day but depending on your bank it can take 1–2 business days for your payment to appear. To ensure that we can reconcile your payment quickly please make sure you follow the instructions carefully and include a reference with your payment.
Pesalink
You can deposit payment for your order directly into our Stanbic bank account via Pesalink. all products are eligible for payment via Pesalink. To ensure that we can reconcile your payment quickly please make sure you follow the instructions carefully and include a reference with your payment.
Warranty Info (1 Year)
The warranty tendered hereunder, on the electronic product(s) sold under this invoice will be provided exclusively by their respective Authorized Agents/Distributors and are limited to one year from the date of this invoice, except otherwise mentioned as per the warranty conditions as carried along with the products(s) or mentioned on Rondamo Technologies Invoice
Delivery Terms
Accurate delivery estimates are displayed on the product page and in the Checkout before you confirm your order.
Delivery estimates take into consideration both the delivery address and the types of products being ordered.
The remainder of this article discusses delivery times in more general terms.
Same Day Delivery / For Customers in Nairobi Metropolitan Area
We use Courier for these orders, which allows fast and reliable delivery to destinations across their comprehensive domestic network. Orders placed between 7 Am and 5 Pm will be delivered the same day otherwise they will be delivered the following day. Delivery times vary depending on a product's stock status and the intended delivery address. For very large orders, we may be forced to use Mainfreight as these orders lie outside of what Courier Rider services can handle. If your order is being shipped with Mainfreight, this will be indicated in your fulfilment email along with a tracking number.
Overnight Delivery
Most In stock products are delivered overnight anywhere in Kenya – provided the order is placed before the advertised cut-off time. Our Overnight Delivery cut-off is usually 4:30pm Monday to Friday, however, this is updated daily and the expected shipping date will be shown for you on the product page. Larger products take an additional 1–2 days to be delivered.
Evening Express Delivery
Same Day Delivery is available to Nairobi & its suburbs. Same Day Delivery orders are delivered between 4pm and 7pm in the evening on the same day your order is dispatched.
If you are ordering on a business day and before the cutoff time, the option will be called "Same Day Delivery". If you are ordering after the cutoff time or on a weekend or public holiday, the option will be called "Evening Express Delivery". And May incur extra Costs other than the standard shipping fee.