Categories: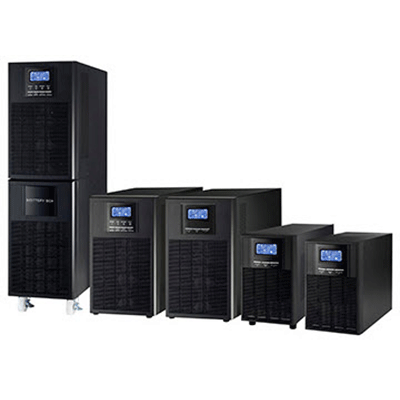 Fast Shipping




24 Hrs Delivery All Over Kenya
Warranty




Warranty on All Products
Secure Payment




Pay Via Mpesa & Bank Transfer
Largest Range




Best Brands & laptops
Mecer 10000VA On-Line Tower UPS (ME-10000-WPTU)
Key features
1KVA/2KVA/3KVA/6KVA Available
True double-conversion
Wide input voltage range (110-300VAC)
Input power factor correction 0.98
Generator compatible
RS-232 communication port or mini slot for USB / RS-232 / AS400 /
SNMP communication
Smart battery charger design for optimized battery performance
show more
Mecer 10000VA On-Line Tower UPS (ME-10000-WPTU) details
MODEL: ME-10000-WPTU PHASE: Single phase with ground CAPACITY: 10000VA / 8000W (with AVR,Monitoring Software + Cable & Built-in Surge Protection) - Black INPUT Voltage Range Low Line Transfer: 176 VAC 3% @ 100% load, 110 VAC 3% @ 50% load Low Line Comeback: 186 VAC 3% @ 100% load, 120 VAC 3% @ 50% load High Line Transfer: 300 VAC 3% High Line Comeback: 290 VAC 3% Frequency Range: 46~54 Hz or 56~64 Hz Power Factor: 0.99 @ 100%load OUTPUT Output Voltage: 208/220/230/240 VAC AC Voltage Regulation (Batt. Mode): 1% Frequency Range (Synchronized Range): 46~54 Hz or 56~64 Hz Frequency Range (Batt. Mode): 50 Hz 0.1 Hz or 60 Hz 0.1 Hz Current Crest Ratio: 3:1 Transfer Time AC Mode to Batt. Mode: Zero Inverter to Bypass: Zero Waveform (Batt. Mode): Pure Sinewave Harmonic Distortion: 3 % THD (Linear Load), 5 % THD (Non-linear Load) EFFICIENCY AC Mode: 93% Battery Mode: 91% BATTERY Battery Type: 12 V / 9 Ah Numbers: 16 Typical Recharge Time: 9 hours recover to 90% capacity Charging Current (max.): 1.0 A / 2.0 A (adjustable) Charging Voltage: 218.4 VDC 1% INDICATORS LCD Panel: UPS status, Load level, Battery level, Input/Output voltage, Discharge timer, and Fault conditions ALARM Battery Mode: Sounding every 4 seconds Low Battery: Sounding every second Overload: Sounding twice every second Fault: Continuously sounding PHYSICAL Dimension, D x W x H (mm): 442 x 190 x 688 Net Weight (kgs): 66 ENVIRONMENT Humidity: 0-95 % RH @ 0- 40C (non-condensing) Noise Level: Less than 58dB @ 1 Meter MANAGEMENT Smart RS-232/USB: Supports Windows 2000/2003/XP/Vista/ 2008, Windows 7/8, Linux, Unix, and MAC Optional SNMP: Power management from SNMP manager and web browser NOTE 1: Derate to 80% of capacity in CVCF mode or when the output voltage is adjusted to 200/208VAC. NOTE 2: If the UPS is installed or used in a place where the altitude is above than 1000m, the output power must be derated one percent per 100m.
In an online UPS, the batteries are always connected to the inverter, so that no power transfer switches are necessary. When power loss occurs, the rectifier simply drops out of the circuit and the batteries keep the power steady and unchanged. When power is restored, the rectifier resumes carrying most of the load and begins charging the batteries, though the charging current may be limited to prevent the high-power rectifier from overheating the batteries and boiling off the electrolyte. The main advantage of an on-line UPS is its ability to provide an "electrical firewall" between the incoming utility power and sensitive electronic equipment
The online UPS is ideal for environments where electrical isolation is necessary or for equipment that is very sensitive to power fluctuations. Although it was at one time reserved for very large installations of 10 kW or more, advances in technology have now permitted it to be available as a common consumer device, supplying 500 W or less.
Payment Details
Cash Payments (Nairobi only)
We accept Cash Payments . This is applicable for Pay on Delivery orders within Nairobi Metropolitan area.
Mpesa Payment.
Go to Safaricom SIM Tool Kit, select M-PESA menu, select "Lipa na M-PESA"
Select "Pay Bill"
Select "Enter Business no.", Enter Rondamo technologies Lipa na M-PESA PayBill Number 964586 and press "OK"
Account no. ( Indicate Order No. & Your Name)
"Enter Amount : ( Total shown on Invoice)
Enter your M-PESA PIN and press "OK"
This is applicable for all orders, both in Nairobi & upcountry besides large orders over Ksh 250,000/-
Bank Deposit /EFT
You can deposit payment for your order directly into our Stanbic bank account. We check our bank account for new payments every day but depending on your bank it can take 1–2 business days for your payment to appear. To ensure that we can reconcile your payment quickly please make sure you follow the instructions carefully and include a reference with your payment.
Pesalink
You can deposit payment for your order directly into our Stanbic bank account via Pesalink. all products are eligible for payment via Pesalink. To ensure that we can reconcile your payment quickly please make sure you follow the instructions carefully and include a reference with your payment.
Warranty Info (1 Year)
The warranty tendered hereunder, on the electronic product(s) sold under this invoice will be provided exclusively by their respective Authorized Agents/Distributors and are limited to one year from the date of this invoice, except otherwise mentioned as per the warranty conditions as carried along with the products(s) or mentioned on Rondamo Technologies Invoice
Delivery Terms
Accurate delivery estimates are displayed on the product page and in the Checkout before you confirm your order.
Delivery estimates take into consideration both the delivery address and the types of products being ordered.
The remainder of this article discusses delivery times in more general terms.
Same Day Delivery / For Customers in Nairobi Metropolitan Area
We use Courier for these orders, which allows fast and reliable delivery to destinations across their comprehensive domestic network. Orders placed between 7 Am and 5 Pm will be delivered the same day otherwise they will be delivered the following day. Delivery times vary depending on a product's stock status and the intended delivery address. For very large orders, we may be forced to use Mainfreight as these orders lie outside of what Courier Rider services can handle. If your order is being shipped with Mainfreight, this will be indicated in your fulfilment email along with a tracking number.
Overnight Delivery
Most In stock products are delivered overnight anywhere in Kenya – provided the order is placed before the advertised cut-off time. Our Overnight Delivery cut-off is usually 4:30pm Monday to Friday, however, this is updated daily and the expected shipping date will be shown for you on the product page. Larger products take an additional 1–2 days to be delivered.
Evening Express Delivery
Same Day Delivery is available to Nairobi & its suburbs. Same Day Delivery orders are delivered between 4pm and 7pm in the evening on the same day your order is dispatched.
If you are ordering on a business day and before the cutoff time, the option will be called "Same Day Delivery". If you are ordering after the cutoff time or on a weekend or public holiday, the option will be called "Evening Express Delivery". And May incur extra Costs other than the standard shipping fee.