Categories: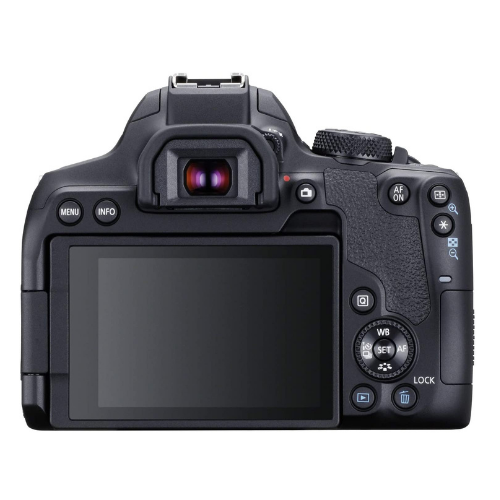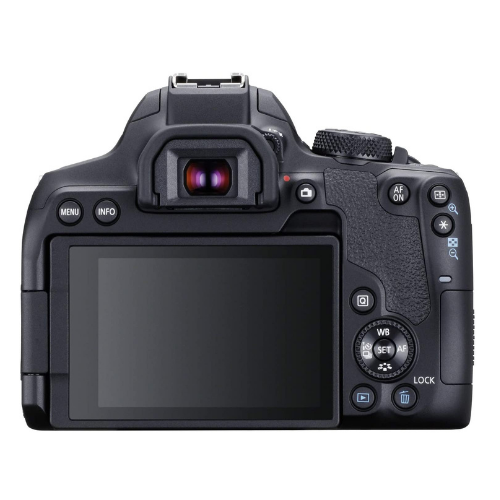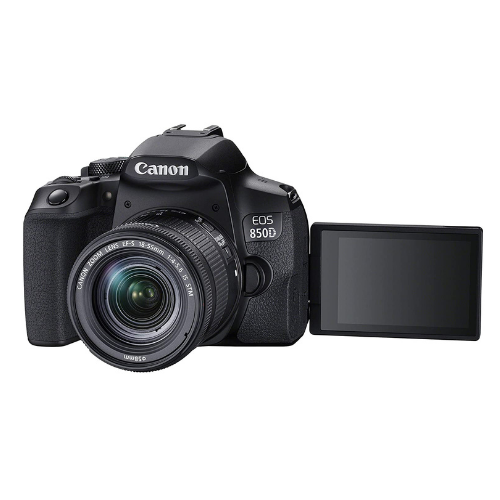 Fast Shipping




24 Hrs Delivery All Over Kenya
Warranty




Warranty on All Products
Secure Payment




Pay Via Mpesa & Bank Transfer
Largest Range




Best Brands & laptops
Canon EOS 850D and EF-S 18-135mm f/3.5-5.6 IS USM Lens
Enjoy creative control - See through the lens via optical viewfinder and adjust settings with the rear control and top dial. Pair to a smart device for remote control and edit shots in-camera.
Pro quality images and movies - Capture photos and 4K movies with a 24.1MP sensor using Dual Pixel CMOS AF and a refined 45 point all cross-type AF sensor plus iTR AF for precise focus and tracking
Always capture the moment - Track subjects with 7 fps shooting, Eye AF in Live View, advanced iTR AF with face detection plus a Vari-Angle touchscreen to help you get every angle.
Connect and share with ease - Connect a smart device via Bluetooth and Wi-Fi, edit via DPP Express for a full RAW workflow on the move, or backup images to your computer with Auto Image Sync.
Experience the EOS system - Enjoy access to the incredible EOS system and attach any EF or EF-S lens, or add a Speedlite flash for creative lighting or plug in an external mic via the 3.5mm jack.
show more
Canon EOS 850D and EF-S 18-135mm f/3.5-5.6 IS USM Lens details

Canon EOS 850D Camera with 18-135mm Lens.
Canon EOS 850D Camera is a good DSLR camera that comes with its own 18-135mm camera lens. This saves you money that you would have spent purchasing the lens separately. Canon EOS 850D Camera is an all-round camera meant for photo taking and film making. So, if you want to shoot high-quality photos and videos, you should get yourself a Canon EOS 850D Camera.
24.1MP Photos and 4K Videos.
Canon EOS 850D Camera lets you shoot 24.1MP photos that are clear, bright, and detailed. You can also shoot 4K videos which have 4 times the resolution an HD video has.
Easy Controls.
Canon EOS 850D Camera is not a complicated camera to use. it comes with Top Dial that lets you adjust the creative mode settings like shutter speed and aperture and Rear Dial that that lets you adjust exposure compensation or full manual adjustment.
Compact Camera.
Canon EOS 850D Camera is not a bulky camera. It is a lightweight small camera that is easy to carry around. If you are going to take videos or photos the whole day, Canon EOS 850D Camera is the best DSLR camera to get.
Canon EOS 850D Camera with 18-135mm Lens Specifications.
Image Sensor.
Type: 22.3mm x 14.9 mm CMOS
Effective Pixels: Approx. 24.10 megapixels
Total Pixels: Approx. 25.80 megapixels
Aspect Ratio: 3:2
Low-Pass Filter: Built-in/Fixed
Sensor Cleaning: EOS integrated cleaning system
Color Filter Type: Primary Color
Image Processor.
Type: DIGIC 8
Lens.
Lens Mount: EF/EF-S
Focal length: Equivalent to 1.6x the focal length of the lens
Image Stabilisation: Optical Image Stabilizer on compatible lens
Movie: In-camera 5-axis Digital IS available. Further stabilization enhancements from lenses compatible with Dynamic IS
Focusing.
Type: Via optical viewfinder: TTL secondary image-forming phase-difference detection system with
AF-dedicated sensor
Via LiveView on LCD screen: Dual Pixel CMOS AF System. Phase detection pixels built onto the imaging sensor
AF System / Points: Via optical viewfinder: 45 cross-type AF points; (45 f/5.6 cross-type AF points, 27 f/8 points (9 cross-type), the center point is f/2.8 and f/5.6 dual cross-type)
Via LiveView on LCD screen: Maximum 143 AF points via camera automatic selection; Freely position 1 AF point/ 1 AF Zone (9 points, 3x3 grid) via manual selection
AF working range: -4 - 18 EV
AF Point Selection: Via optical viewfinder:
Automatic selection: 45 points AF (with iTR Face Priority)
Manual selection: Single-point AF
Manual selection: Zone AF
Manual selection: Large Zone AF
Selected AF point display: Indicated by a transmissive LCD in the viewfinder and Quick Control screen
Predictive AF: Yes
AF Lock: Locked when the shutter button is pressed halfway in One-Shot AF mode or AF-ON Button is pressed.
AF Assist Beam: Intermittent firing of built-in flash (effective range up to 4.0 m) or emitted by optional dedicated Speedlite
Manual Focus: Selected on lens
Exposure Control.
Metering modes: Via optical viewfinder: 220,000-pixel RGB+IR metering sensor
Metering with the area divided into 216 segments (18 × 12)
(1) Evaluative metering (linked to all AF points)
(2) Partial metering (approx. 6.5 % of viewfinder)
(3) Spot metering (approx. 2.0 % of viewfinder)
(4) Center-weighted average metering
Via LiveView on LCD screen: (1) Evaluative metering (384 zones); (2) Partial metering (approx. 5.8 % of the LCD screen); (3) Spot metering (approx. 2.9 % of the LCD screen); (4) Center-weighted average metering
Metering Range: Via optical viewfinder: EV 1-20 (at 23 °C with 50mm f/1.4 lens ISO 100)
Via LiveView on LCD screen: EV -2-20 (at 23 °C, ISO 100, evaluative metering)
Movie: EV 0-20 (at 23 °C, ISO 100, evaluative metering)
AE Lock: Auto: In One-shot AF mode with evaluative metering exposure is locked when the focus is achieved.
Manual: By AE Lock Button in creative zone modes.
Exposure Compensation: +/-5 EV in 1/3 or 1/2 stop increments (can be combined with AEB).
AEB: 3 shots +/-3 EV 1/3 or 1/2 stop increments
ISO Sensitivity: Auto (100-25600), 100-25600 (in 1/3-stop or whole stop increments)
ISO can be expanded to H: 51200
During Movie shooting: Auto (100-12800), 100-12800 (in 1/3-stop or whole stop increments) ISO can be expanded to H: 25600
Shutter.
Type: Electronically-controlled focal-plane shutter
Speed: 30-1/4000 sec (1/2 or 1/3 stop increments), Bulb (Total shutter speed range. Available range varies by shooting mode)
White Balance.
Settings: AWB (Ambience priority, White priority), Daylight, Shade, Cloudy, Tungsten light, White
Fluorescent light, Flash, Custom, Color Temperature Setting.
White balance compensation: 1. Blue/Amber bias +/-9 levels; 2. Magenta/ Green bias +/-9 levels
Custom White Balance: Yes, 1 setting can be registered
WB Bracketing: +/-3 levels in single-level increments
3 bracketed images per shutter release.
Selectable Blue/Amber bias or Magenta/ Green bias.
Viewfinder.
Type: Pentamirror
Coverage (Vertical/Horizontal): Approx. 95 %
Magnification: Approx. 0.82x
Eyepoint: Approx. 19 mm (from eyepiece lens center)
Dioptre Correction: -3 to +1 m-1 (dioptre)
Focusing Screen: Fixed (Translucent LCD screen for information overlay)
Mirror: Quick-return half mirror (Transmission: reflection ratio of 40:60, no mirror cut-off with EF 600mm f/4 IS USM or shorter)
Viewfinder Information: AF information: AF points, focus confirmation, AF area selection mode
Exposure information: Shutter speed, aperture value, ISO speed (always displayed), AE lock, exposure level/compensation, spot metering circle, exposure warning, AEB.
Flash information: Flash ready, high-speed sync, FE lock, flash exposure compensation, red-eye reduction light, AI Bounce mode active
Image information: Card information, maximum burst (1 digit display), Highlight tone priority (D+).
Composition information: Grid, Aspect Ratio
Other information: Warning icon, Flicker Detection
Depth of field preview: Yes, with the Depth of Field preview button.
Eyepiece shutter: Not provided
LCD Monitor.
Type: Vari angle touchscreen 7.5 cm (3.0") 3:2 Clear View II TFT, approx. 1040 K sRGB dots
Coverage: Approx. 100%
Viewing Angle (horizontally/vertically): Approx 170°
Brightness Adjustment: Adjustable to one of seven levels
Display Options: (1) Quick Control Screen
(2) Camera settings
(3) Electronic Level
Flash.
Built-in Flash GN (ISO 100, meters): 12
Built-in Flash Coverage: up to 17mm focal length (35mm equivalent: approx. 28mm)
Built-in Flash recycle time: Approx. 5 seconds
Modes: Auto, Manual flash, Integrated Speedlite Transmitter
Red-Eye Reduction: Yes - with red-eye reduction lamp
X-sync: 1/200 sec
Flash Exposure Compensation: +/- 2 EV in 1/2 or 1/3 increments
Flash Exposure Bracketing: Yes, with compatible External Flash
Flash Exposure Lock: Yes
Second Curtain Synchronisation: Yes
HotShoe / PC terminal: Yes/ No
External Flash Compatibility: E-TTL II with EX-series Speedlites, wireless optical multi-flash support
External Flash Control: via the camera menu screen
Shooting.
Modes: Scene Intelligent Auto (Stills and Movie), No Flash, Creative Auto, SCN(Portrait, Smooth Skin, Landscape, Close-up, Sports, Group Photo, Night Portrait, Handheld Night Scene, HDR Backlight Control, Food, Kids, Candlelight), Creative filters, Program AE, Shutter-priority AE, Aperture-priority AE, Manual (Stills and Movie), Self Portrait
Picture Styles: Auto, Standard, Portrait, Landscape, Fine Detail, Neutral, Faithful, Monochrome, User Defined (x3)
Color Space: sRGB and Adobe RGB
Image Processing: Highlight Tone Priority
Auto Lighting Optimizer (4 settings)
Long exposure noise reduction
High ISO speed noise reduction (4 settings)
Multi-Shot Noise Reduction
Auto-Correction of Lens Peripheral illumination, Chromatic aberration correction, Distortion correction, Diffraction correction
Creative filters (Grainy B/W, Soft focus, Fish-eye effect, Water painting effect, Toy camera effect, Miniature effect, HDR art standard, HDR art vivid, HDR art bold, HDR art embossed)
Resize, Crop (JPEG only)
Drive modes: Single, Continuous L, Continuous H, Self-timer (continuous, continuous panning, 2s+remote, 10s +remote)
Continuous Shooting: Max. approx. 7fps via the viewfinder.
Max. approx 7.5fps via Live View
Live View Mode.
Coverage: Approx. 100% (horizontally and vertically)
Focusing: Manual Focus (Magnify the image 5x or 10x at any point on screen)
Autofocus: Dual Pixel CMOS AF (Face detection and Tracking AF, FlexiZone-Multi, FlexiZone-Single)
One-shot AF and Servo AF selectable for Stills and Movie
Metering: Real-time evaluative metering with image sensor.
Evaluative metering, partial metering, spot metering, center-weighted average metering.
Display Options: Grid overlay (x3), Histogram
File Type.
Still Image Type: JPEG: Fine, Normal (Exif 2.31 compliant) / Design rule for Camera File system (2.0)
RAW: RAW (CR3 14-bit), CRAW (Compact RAW)
Digital Print Order Format [DPOF] Version 1.1 compliant
RAW+JPEG simultaneous recording: RAW, RAW + L possible.
Image Size: JPEG 3:2: (L) 6000 x 4000, (M) 3984 x 2656, (S1) 2976 x 1984, (S2) 2400x1600
JPEG 4:3: (L) 5328x4000, (M) 3552x2664, (S1) 2656x1992, (S2) 2112x1600
JPEG 16:9: (L) 6000x3368, (M) 3984x2240, (S1) 2976x1680, (S2) 2400x1344
JPEG 1:1: (L) 4000x4000, (M) 2656x2656, (S1) 1984x1984, (S2) 1600x1600
RAW: (RAW) 6000x4000
Movie Type: MP4 [Video: MPEG-4 AVC/H.264, Audio: MPEG-4 AAC-LC (stereo)]
Movie Size: 4K UHD 3840 x 2160 (25, 23.98 fps) inter-frame
4K Time-lapse 3840 x 2160 (29.97, 25 fps) ALL-I
Full HD 1920 x 1080 (59.94, 50 fps) inter-frame
Full HD 1920 x 1080 (29.97, 25, 23.98 fps) inter-frame
Full HD 1920 x 1080 (29.97, 25) lite inter-frame
HD 1280 x 720 (59.94, 50 fps) inter-frame
Movie Length: Max duration 29min 59sec
Folders: New folders can be manually created and selected
File Numbering: (1) Consecutive numbering
(2) Auto reset
(3) Manual reset
Other Features.
Custom Functions: 14 Custom Functions
Metadata Tag: User copyright information (can be set in-camera)
Image rating (0-5 stars)
Playback zoom: 1.5x - 10x
Display Formats: (1) Single image with information (2 levels)
(2) Single image
(3) 4 image index
(4) 9 image index
(5) 36 image index
(6) 100 image index
(7) Jump Display
Slide Show: Choose images with Image Search
Playback time: 1/2/3/5/10/20 seconds
Repeat: On/Off
Background music: On/Off
Transition effect: Off, Slide in 1, Slide-in 2, Fade 1, Fade 2, Fade 3
Histogram: Brightness: Yes
RGB: Yes
Highlight Alert: Yes
Image Erase/Protection: Erase: Select image, select range, all images in the folder, all images on a card, all found images (during image search)
Protection: Single image, select range, all images in the folder, all images on a card, all found images (during image search)
Menu Categories: Menu interface adjustable by the user between standard and guided
(1) Shooting menu
(2) Playback menu
(3) Wireless menu
(4) Setup menu
(5) Display Options menu
(6) My Menu
Menu Languages: 29 languages: English, German, French, Dutch, Danish, Portuguese, Finnish, Italian, Ukraine, Norwegian, Swedish, Spanish, Greek, Russian, Polish, Czech, Hungarian, Vietnamese, Hindi, Romanian, Ukrainian, Turkish, Arabic, Thai, Simplified Chinese, Traditional Chinese, Korean, Malay, Indonesian, and Japanese
GPS: Compatible with GPS receiver GP-E2
Firmware Update: Update possible by the user.
Interface.
Computer: Hi-Speed USB
Wi-Fi: Wireless LAN (IEEE802.11b/g/n), (2.4 GHz only, 1-11 ch)
Wi-Fi Security: Camera Access Point: WPA2-PSK with AES encryption or open
Infrastructure: Shared key, with WEP encryption, WPA-PSK/WPA2-PSK with TKIP/AES encryption, or open
Bluetooth: Bluetooth® (Specification version 4.1, Bluetooth low energy technology)
Other: Video output (PAL/ NTSC) (integrated with USB terminal), HDMI mini output (HDMI-CEC compatible), External microphone (3.5mm Stereo mini jack)
Direct Print.
Canon Printers: Canon Compact Photo Printers and PIXMA Printers supporting PictBridge
PictBridge: Yes
Storage.
Type: SD, SDHC, SDXC (UHS Speed Class 1 compatible)
Supported Operating System.
PC & Macintosh: PC and Mac computers, see support pages for latest software requirements
Software.
Image Processing: Digital Photo Professional 4 (RAW Image Processing)
Other: EOS Utility; EOS Lens Registration Tool; EOS Web Service Registration Tool; EOS Sample Music; Picture Style Editor
Power Source.
Batteries: 1 x Rechargeable Li-ion Battery LP-E17
Battery life: Viewfinder Shooting: Approx. 800 (at 23°C, AE 50%, FE 50%); Approx. 730 (at 0°C, AE 50%, FE 50%)
Live View Shooting: Approx. 310 (at 23°C, AE 50%, FE 50%); Approx. 290 (at 0°C, AE 50%, FE 50%)
Battery Indicator: 5 levels
Power saving: Power turns off after 10/30 (10-sec viewfinder/30-sec live view, functions, image playback, etc.) sec, 30 sec, 1, 2, 4, 8, or 15 mins. Can be disabled.
Power Supply & Battery Chargers: AC Adapter AC-E6N, DC coupler: DR-E18, Battery charger LC-E17E
Accessories.
Viewfinder: Eyecup Ef; Rubber Frame Ef; E-series Dioptric Adjustment Lenses; Eyepiece Extender EP-EX15II; Magnifier MG-Ef; Angle Finder C
Case: Semi-Hard case EH26-L / EH27-L
Wireless File Transmitter: Built-in Wi-Fi transmission
Connectivity to Smart devices is possible with Android version 4.0-4.4/5.0-5.1 or iOS 7.1/8-8.3.
Remote Wi-Fi zoom operation of EF-S 18-135mm f/3.5-5.6 IS USM via the optional Power Zoom Adapter PZ-E1 is only possible on EOS 80D using a compatible smart device or supplied EOS utility software
Lenses: All EF and EF-S lenses
Flash: Canon Speedlites (90EX, 220EX, 270EX, 270EX II, 320EX, 420EX, 430EX, 430EX II, 430EX III-RT, 550EX, 580EX, 580EX II, 600EX, 600EX-RT, Macro-Ring-Lite, MR-14EX, Macro Twin Lite MT-24EX, Speedlite Transmitter ST-E2, Speedlite Transmitter ST-E3-RT, EL100)
Remote Controller / Switch: Remote Switch RS-60E3, TC-80N3 (requires Remote Controller Adapter RA-E3) Remote Controller BR-E1
Other: Hand Strap E2, GP-E2
Body Materials: Chassis: Aluminum alloy and polycarbonate resin with glass fiber
Exterior: Polycarbonate resin with glass fiber and special conductive fiber
Payment Details
Cash Payments (Nairobi only)
We accept Cash Payments . This is applicable for Pay on Delivery orders within Nairobi Metropolitan area.
Mpesa Payment.
Go to Safaricom SIM Tool Kit, select M-PESA menu, select "Lipa na M-PESA"
Select "Pay Bill"
Select "Enter Business no.", Enter Rondamo technologies Lipa na M-PESA PayBill Number 964586 and press "OK"
Account no. ( Indicate Order No. & Your Name)
"Enter Amount : ( Total shown on Invoice)
Enter your M-PESA PIN and press "OK"
This is applicable for all orders, both in Nairobi & upcountry besides large orders over Ksh 250,000/-
Bank Deposit /EFT
You can deposit payment for your order directly into our Stanbic bank account. We check our bank account for new payments every day but depending on your bank it can take 1–2 business days for your payment to appear. To ensure that we can reconcile your payment quickly please make sure you follow the instructions carefully and include a reference with your payment.
Pesalink
You can deposit payment for your order directly into our Stanbic bank account via Pesalink. all products are eligible for payment via Pesalink. To ensure that we can reconcile your payment quickly please make sure you follow the instructions carefully and include a reference with your payment.
Warranty Info (1 Year)
The warranty tendered hereunder, on the electronic product(s) sold under this invoice will be provided exclusively by their respective Authorized Agents/Distributors and are limited to one year from the date of this invoice, except otherwise mentioned as per the warranty conditions as carried along with the products(s) or mentioned on Rondamo Technologies Invoice
Delivery Terms
Accurate delivery estimates are displayed on the product page and in the Checkout before you confirm your order.
Delivery estimates take into consideration both the delivery address and the types of products being ordered.
The remainder of this article discusses delivery times in more general terms.
Same Day Delivery / For Customers in Nairobi Metropolitan Area
We use Courier for these orders, which allows fast and reliable delivery to destinations across their comprehensive domestic network. Orders placed between 7 Am and 5 Pm will be delivered the same day otherwise they will be delivered the following day. Delivery times vary depending on a product's stock status and the intended delivery address. For very large orders, we may be forced to use Mainfreight as these orders lie outside of what Courier Rider services can handle. If your order is being shipped with Mainfreight, this will be indicated in your fulfilment email along with a tracking number.
Overnight Delivery
Most In stock products are delivered overnight anywhere in Kenya – provided the order is placed before the advertised cut-off time. Our Overnight Delivery cut-off is usually 4:30pm Monday to Friday, however, this is updated daily and the expected shipping date will be shown for you on the product page. Larger products take an additional 1–2 days to be delivered.
Evening Express Delivery
Same Day Delivery is available to Nairobi & its suburbs. Same Day Delivery orders are delivered between 4pm and 7pm in the evening on the same day your order is dispatched.
If you are ordering on a business day and before the cutoff time, the option will be called "Same Day Delivery". If you are ordering after the cutoff time or on a weekend or public holiday, the option will be called "Evening Express Delivery". And May incur extra Costs other than the standard shipping fee.