Categories: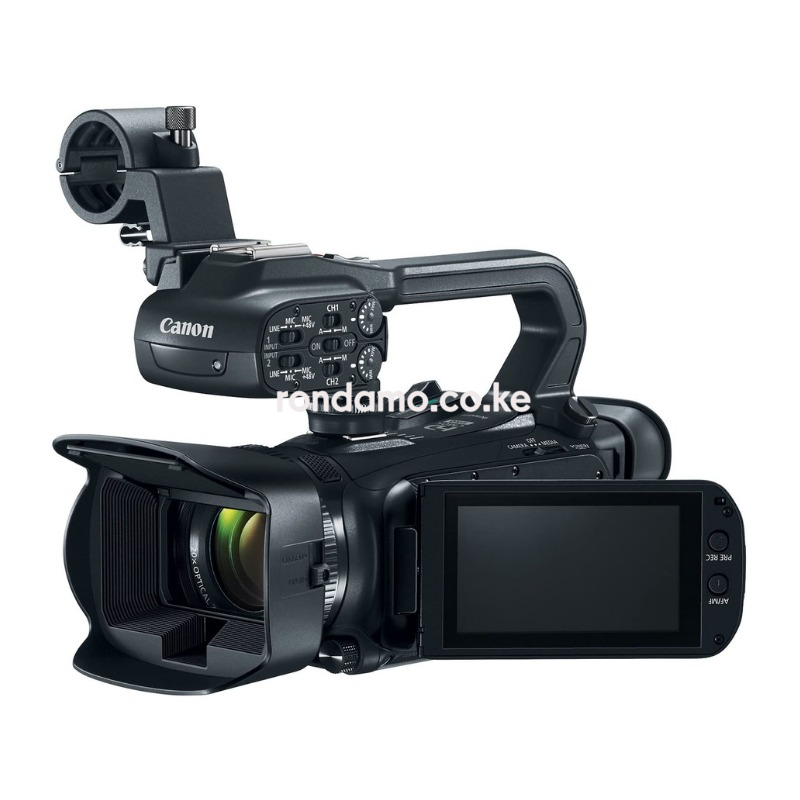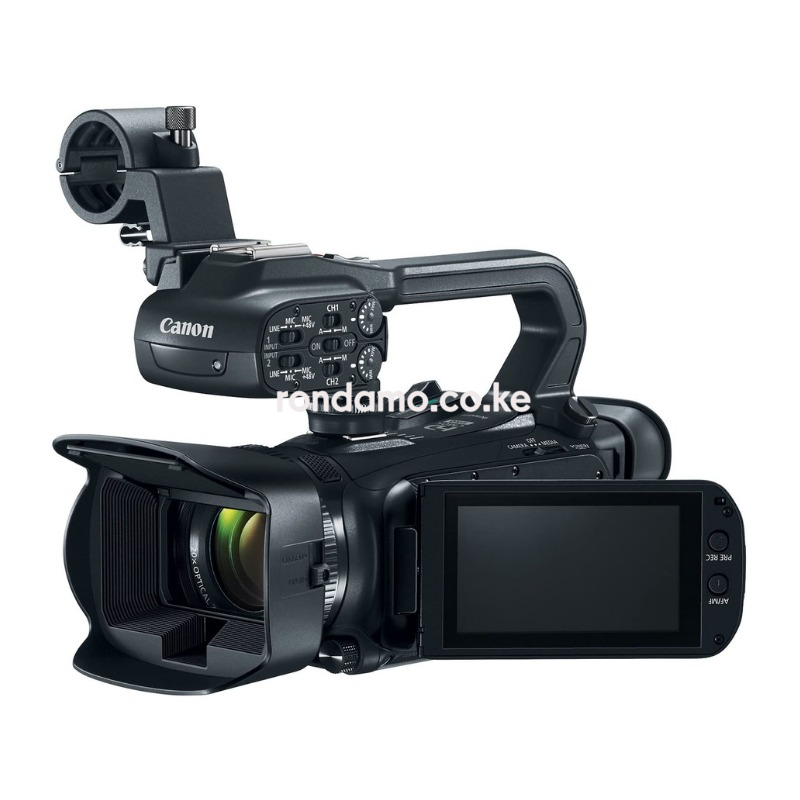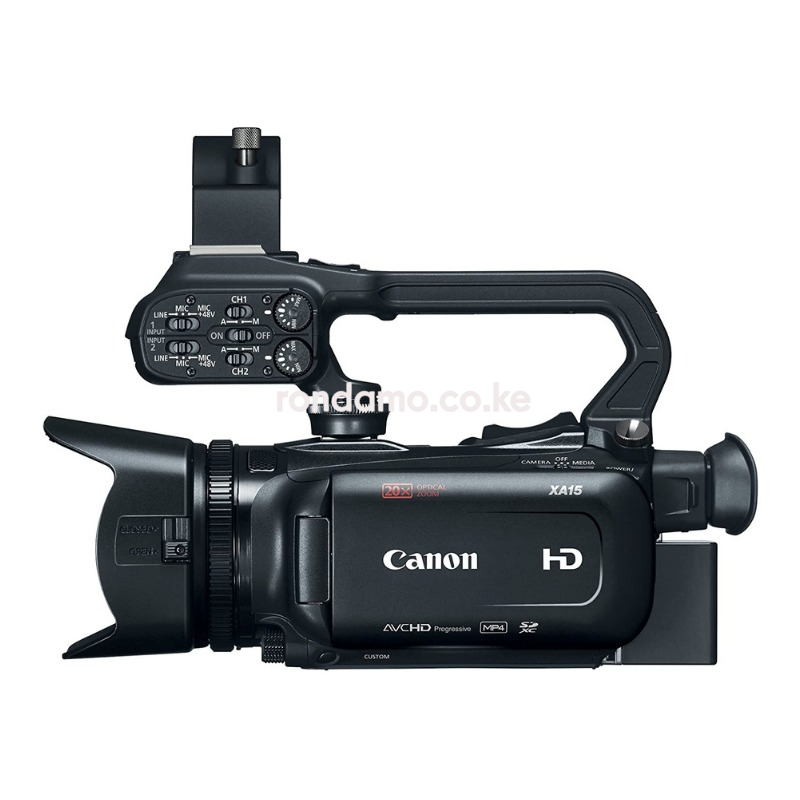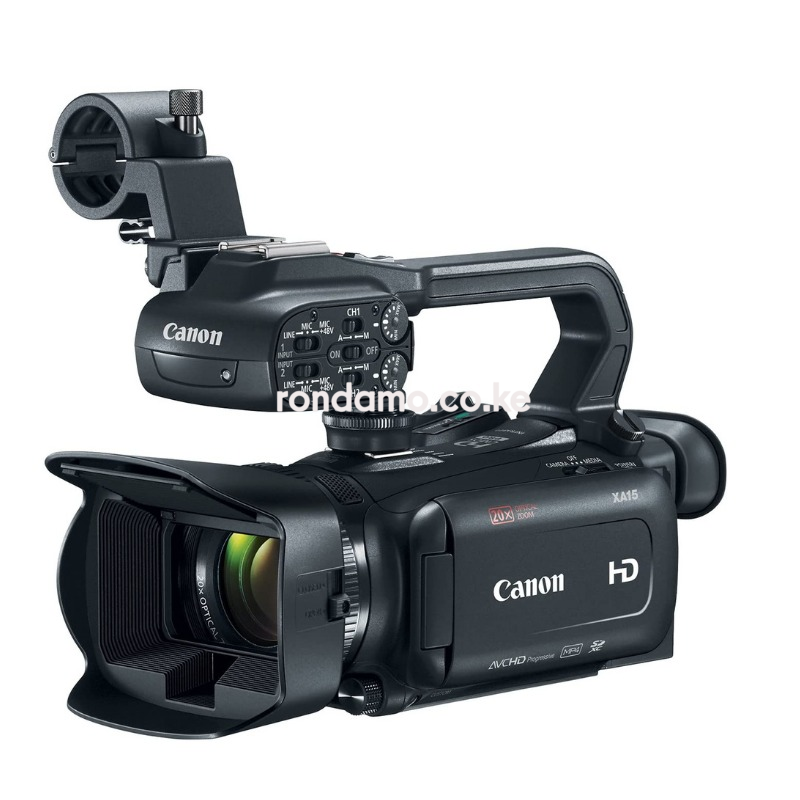 Fast Shipping




24 Hrs Delivery All Over Kenya
Warranty




Warranty on All Products
Secure Payment




Pay Via Mpesa & Bank Transfer
Largest Range




Best Brands & laptops
Canon XA15 Compact Full HD Camcorder
Native 1920 x 1080, 1/2.84″ CMOS Sensor
20x HD Zoom Lens
Canon Digic DV 4 Image Processor
Dynamic Image Stabilization
3″ OLED Touch Panel View Screen
Manual Camera Controls
2 x XLR with Manual/Auto Audio Levels
SDI, HDMI, Composite Output
2 x SD/SDHC/SDXC Media Card Slots
show more
Canon XA15 Compact Full HD Camcorder details
The Canon XA15 Full HD Camcorder is a compact run-and-gun camera that is suitable for ENG, event coverage, and independent and documentary filmmaking. It incorporates SDI, mini-HDMI, and composite outputs. The camera features a 1/2.84", 1920 x 1080 CMOS sensor that captures video at various frame rates up to 59.94p, including a 24p mode for a more cinematic feel. The integrated Canon 20x HD optical zoom lens has a 35mm equivalent zoom range of 26.8 to 576mm, and features an 8-bladed iris to render highlights in a more natural manner.

The final piece in the image chain is Canon's Digic DV 4 image processor. This high-speed image-processing engine powers Canon's Dynamic IS (Image Stabilization) mode reducing image distortion over traditional up-down, left-right image stabilization by adding correction for camera roll in three axes. The power of the Digic DV 4 allows the camera to simultaneously encode your video to two different codecs and bit rates, allowing you to have web-ready versions of your master footage available as soon as you stop recording.

The XA15 features both a 3" OLED touch panel view screen with a 10,000:1 contrast ratio, and a color electronic viewfinder with 1,560,000 dots of resolution. The camera features full manual control and auto modes for exposure, focus, white balance, gain, and shutter speed. The camera provides professional features such as a pre-record buffer, peaking, zebra bars, color bars, and reference tone. The zoom speed is adjustable with variable, constant (with 16 different speed levels), fast, normal, and slow settings. The camera features a detachable top handle with zoom toggle, record start/stop, IR emitter, tally light, accessory shoe, external mic holder, two XLR connectors with phantom power, and manual audio level controls.

Two built-in SD/SDHC/SDXC memory card slots allow you to record video to available media cards in both slots at the same time. This allows you to create an instant backup copy for archiving and data protection. You can also capture high-resolution AVCHD or MP4 video files on one card while creating a lower data rate MP4 more suitable for the web on the other card. When using two media cards and the camera is in Relay mode, there is no need to stop shooting to swap out a full media card; when one card becomes full, recording seamlessly switches to the other card.
Canon Native 1920 x 1080 CMOS Sensor
The XA15 features a 1/2.84-inch HD CMOS Pro Sensor with 2.91MP. The large size of the individual pixels enable a minimum subject illumination of 1.0 lux for shooting in low-light conditions.
20x Optical Zoom Lens
The Canon 20x HD zoom lens provides a zoom range with a 35mm equivalent of 26.8 to 576mm, and features an improved circular iris design providing a more natural look with out-of-focus areas that are smoother and more appealing. Zoom speed can be set to variable, constant (with 16 levels), fast, normal, or slow.
Digic DV 4 Image Processor
The DIGIC DV 4 Image Processor works in concert with the sensor to provide images with low noise and rich color depth. The processing power of the Digic DV 4 enables the simultaneous encoding of video to different codecs and bit rates for recording to two separate SD cards at the same time.
Auto Focus
Canon Auto Focus (AF) features include natural-looking medium speed, instant, and face detection AF, which can significantly reduce the effort required when shooters need to keep a particular face in focus in a jostling crowd or similar situation.
Advanced Displays
Zebra bars selectable between 70 and 100% are available to help you judge exposure.
The XA15 features peaking and 2x image magnification as focus aids.
The camera can display and record color bars or color bars with reference tone. The color bars comply with the SMPTE standards. Reference tone levels can be set at -12, -18, or -20 dB.
3" OLED Touch Panel View Screen and EVF
The 3", 1,230,000-dot touch panel view screen enables rapidly moving through and selecting menu settings. The Color EVF is a 0.24 inch with 1,560,000 dots of resolution, and tilts up to 45° to accommodate different shooting positions.
Manual Camera Control
The XA15 features selectable manual/automatic control on the camera functions, allowing you to choose the best settings for the situation. Functions include: Exposure, Shutter Speed, Iris, Gain, Exposure Lock, AGC Limit.
White Balance features six presets (Daylight, Shade, Cloudy, Tungsten, Fluorescent H, and Fluorescent), as well as two manual white balance settings. Additionally, when specific adjustment of the color temperature is desired, the color temperature may be adjusted in 100K increments from 2000 to 15,000K.
The camera's body features five user assignable buttons so you can customize the camera to access features without having to enter the menu system.
Audio
The XA15 features an integrated microphone, and the detachable handle houses two XLR Line/Mic level inputs with +48V phantom power for connecting external mics. The detachable handle also houses the manual audio level controls. A built-in 3.5mm headphone jack with 16 volume settings provides for accurate audio monitoring.
Outputs
The XA15 features an SDI output, as well as a mini-HDMI port, and an AV mini terminal for composite video (and audio) via a four-pole 3.5mm mini-jack.
Media Card Slots
Two SD/SDHC/SDXC card slots are built into the camera, allowing for varied recording options:
Dual recording: Allows you to simultaneously record the same footage to different media cards using different codecs and bit rates.
Double-slot recording: Allows you to record simultaneously to each of the two SD memory card slots, providing an instant backup for your footage.
Relay recording: The XA15 automatically switches video recording from one memory card to the other when the first memory card becomes full.
Infrared Shooting Mode
Engaging the Infrared (IR) shooting mode moves the IR Cut filter out of the optical path for shooting in extreme low-light conditions. An IR emitter built into the detachable top handle provides an IR source, and the built-in IR diffuser helps prevent IR hot spots on the subject. In IR mode, you can select from the traditional green hued IR image or the default setting, which produces a black and white image.
Wired Connectivity
USB: An integrated Hi-Speed mini-USB port allows you to download footage from the memory cards. This port is for output only.
Remote control port: The camera features a built-in 2.5mm stereo mini-jack for LANC control.
Detachable Top Handle
The detachable top handle contains the audio controls and external XLR audio inputs, as well as a tally light, the infrared emitter, and an accessory shoe. You can remove the top handle from the camera to create an even smaller shooting package.
Additional Features
Photo capture: The XA15 offers the ability to capture 1920 x 1080 still images. Photos may be captured to an SD memory card during recording, as well as "frame-grabbed" during playback.
Pre-record: The XA15 continuously buffers approximately three seconds of video in memory. When you begin recording the contents of the buffer memory are added allowing you to capture footage before you press record.
Intelligent battery system: The XA15 is compatible with Canon's Intelligent lithium-ion batteries, which communicate remaining running time (down to the minute) to the user.
Language support: The XA15 supports 27 languages: Czech, Danish, German, Greek, English, Spanish, French, Italian, Hungarian, Malay, Dutch, Norwegian, Polish, Portuguese, Romanian, Finnish, Swedish, Turkish, Russian, Ukrainian, Arabic, Farsi, Thai, Chinese (simplified characters), Chinese (traditional characters), Korean, and Japanese.
Payment Details
Cash Payments (Nairobi only)
We accept Cash Payments . This is applicable for Pay on Delivery orders within Nairobi Metropolitan area.
Mpesa Payment.
Go to Safaricom SIM Tool Kit, select M-PESA menu, select "Lipa na M-PESA"
Select "Pay Bill"
Select "Enter Business no.", Enter Rondamo technologies Lipa na M-PESA PayBill Number 964586 and press "OK"
Account no. ( Indicate Order No. & Your Name)
"Enter Amount : ( Total shown on Invoice)
Enter your M-PESA PIN and press "OK"
This is applicable for all orders, both in Nairobi & upcountry besides large orders over Ksh 250,000/-
Bank Deposit /EFT
You can deposit payment for your order directly into our Stanbic bank account. We check our bank account for new payments every day but depending on your bank it can take 1–2 business days for your payment to appear. To ensure that we can reconcile your payment quickly please make sure you follow the instructions carefully and include a reference with your payment.
Pesalink
You can deposit payment for your order directly into our Stanbic bank account via Pesalink. all products are eligible for payment via Pesalink. To ensure that we can reconcile your payment quickly please make sure you follow the instructions carefully and include a reference with your payment.
Warranty Info (1 Year)
The warranty tendered hereunder, on the electronic product(s) sold under this invoice will be provided exclusively by their respective Authorized Agents/Distributors and are limited to one year from the date of this invoice, except otherwise mentioned as per the warranty conditions as carried along with the products(s) or mentioned on Rondamo Technologies Invoice
Delivery Terms
Accurate delivery estimates are displayed on the product page and in the Checkout before you confirm your order.
Delivery estimates take into consideration both the delivery address and the types of products being ordered.
The remainder of this article discusses delivery times in more general terms.
Same Day Delivery / For Customers in Nairobi Metropolitan Area
We use Courier for these orders, which allows fast and reliable delivery to destinations across their comprehensive domestic network. Orders placed between 7 Am and 5 Pm will be delivered the same day otherwise they will be delivered the following day. Delivery times vary depending on a product's stock status and the intended delivery address. For very large orders, we may be forced to use Mainfreight as these orders lie outside of what Courier Rider services can handle. If your order is being shipped with Mainfreight, this will be indicated in your fulfilment email along with a tracking number.
Overnight Delivery
Most In stock products are delivered overnight anywhere in Kenya – provided the order is placed before the advertised cut-off time. Our Overnight Delivery cut-off is usually 4:30pm Monday to Friday, however, this is updated daily and the expected shipping date will be shown for you on the product page. Larger products take an additional 1–2 days to be delivered.
Evening Express Delivery
Same Day Delivery is available to Nairobi & its suburbs. Same Day Delivery orders are delivered between 4pm and 7pm in the evening on the same day your order is dispatched.
If you are ordering on a business day and before the cutoff time, the option will be called "Same Day Delivery". If you are ordering after the cutoff time or on a weekend or public holiday, the option will be called "Evening Express Delivery". And May incur extra Costs other than the standard shipping fee.