Categories: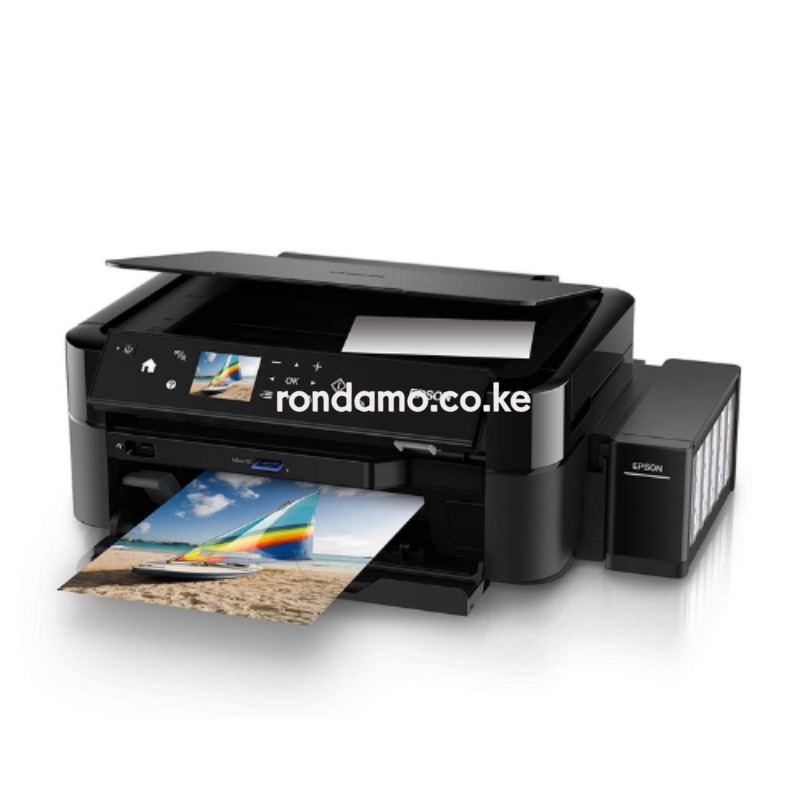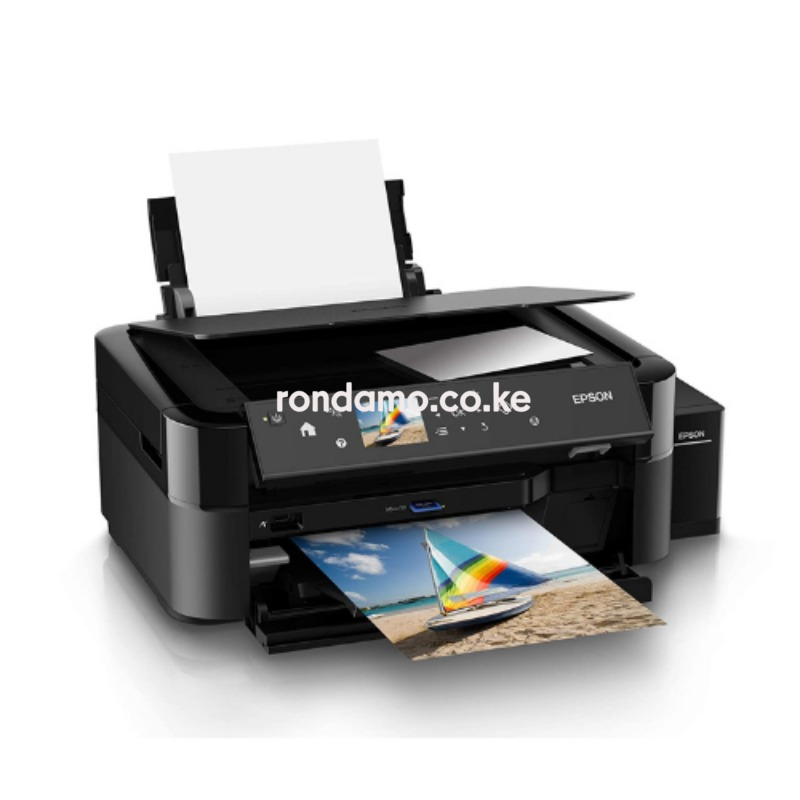 Fast Shipping




24 Hrs Delivery All Over Kenya
Warranty




Warranty on All Products
Secure Payment




Pay Via Mpesa & Bank Transfer
Largest Range




Best Brands & laptops
epson printer wf-l850
epson quality purpose-built, refillable ink tank

peace of mind covered by epson's warranty

pc-less printing use the lcd screen to print from memory cards and cameras

value for money ultra-low-cost per print

user-friendly hassle-free with simple set-up
order from rondamo   technologies and receive this product within 24 hrs countrywide
show more
epson printer wf-l850 details
introduction
epson ink-tank based printers have been in demand since its first variant, among people and offices that like to keep printing expenses to a minimum. why waste a cartridge shell? keep a tank that can be refilled as and when required. the epson ink tank printers were designed on the similar lines.reat while you need to be continuously using up the printers ink to keep it in good condition, it heavily pays back in terms of the per page cost you could incur for color prints. the epson l850 is one such device- an ink tank printer especially made for photo printing. it lacks network capabilities and is not particularly fast. but its meant for printing photos in high quality and at a fraction of cost of other inkjet printers.
design-tank and screen
epson l850 takes best design aspects from both the l810 and the l550. in a similar basket- box form, it has a tank to its right; a retractable feeder tray behind the scanner bed and a control panel at front. it is slightly broader than a laser a4 printer, but surely smaller in height. its ink tank takes some extra space on the right. and they are loosely hooked to the printer so you need to be cautious while moving it around. but you can adjust, get used to it, as slurps of inks are injected into the printer from it to keep money flowing out into ink. the floating control panel at front is an old concept now reformed with a bigger, colorful screen that shows icons and text. its not a touchscreen, so there are a dozen "touch" buttons scattered around it to operate the printer. the buttons are broad, easily visible through a black and white contrast and are quite responsive, which makes them a delight to use. but they are not backlit, if you plan to use it in dark. one of the surprising things we found while testing the printer is that it wouldn't stop printing if the output tray is closed. the tray is such that it closes the only way for the paper to get out once printed but l850 just goes on printing and you get a wavy print once you open the output door.
setup
unlike most printers, the epson ink tank printers are not easy to get running out the box. there are no cartridges that you can unwrap and snap in slots; instead the printer is shipped with an empty tank and bottles of ink to fill them in. the manual vividly explains how you need to get the bottles ready, to pour in to the tanks. once done you can plug it into a wall outlet and turn it on. after initial checks, the printer gets ready to print. there is no wireless facility on the printer, so setting it up is limited to installing the drivers on your computer and connecting the printer to its usb port. the port for the same is present below the scanner assembly, so you will have to lay down the wire around the left edge and out of the left corner. there is no lan port, so the printer cannot be connected to the network, logically. but find out how you can still connect it to a network  on windows. the printer takes around 12w of energy in working mode which is only a fraction of what a laser printer requires (more than 350w).
pc-less printing
armed with an intuitive interface and a few ports at front, epson l850 can function without a computer. it has a usb port, an sd and memory stick pro card slot; using which it supports mini sd cards, magicgate memory stick, and other memory types accompanied in appropriate adapters. but its pc-less printing is backed by features that handle image files more or less like a computer. as soon as a memory card is plugged into the printer, it calculates the number of photos present and gets back to the previous working screen. from the home menu, selecting the 'print photos' option leads to a number of options to view/print all photos, define page layout (on half page, 2 on a page, 4 on a page, etc). in the internal menu, you can define print settings for quality, page size, borderless priniting or automatically enhance photos from the photo adjust menu. more advanced options allow you to fix red eye, apply b&w/sepia filters and alter contrast, saturation and sharpness of the photo. among file handling features there is a backup data option which transfers all the memory card images to a pen drive.
scan and copy
the printer has a letter size flatbed scanner, capable of scanning documents in 1200 dots per inch directly to a pc, or a memory card/pen drive. it goes without saying that 1200dpi of scan resolution is the ceiling even small office printers rarely touch. a photo goes out good in 300 or 600 dpi max, so its not generally needed. unless you need to finely edit it on photoshop or get stuff out of it. epson l850 can scan documents in jpeg or pdf. it's copy settings are also customized for photo printing. in the base menu, contrast, number of copies and b&w/color selection can be made. further in its settings menu, there is an option to restore color on old photos or copy a cd cover onto a cd with full instructions from placing the photo/cd on the scanner bed to placing the disk into the printer.
print quality
any printer using a 6 ink system raises high hopes on the quality front. 5 different types of colors can better match a shade than 3, so the setup used in professional quality photo printers like the epson surelab. the extra two- light magenta and light cyan help the photo get rid of halftoning- a phenomenon where the printer uses fewer ink drops to create a lighter shade; which doesn't have the same effect as using a lighter color itself, especially noticeable when a lot of slightly similar tones are needed to be etched in a small area.8 epson l850 uses the same 6 ink system to create precise tones of color for a photo print. in the best quality mode, it can furnish amazing photos prints. amazing here means, its not a notch less than what we have seen professional printers do with those thick glossy pages. epson ink is a dye based ink and this is another reason why prints are shouting vibrancy on colors. dye based inks are water soluble and are more likely to smear (vs pigment based ink). but they create brighter colors because, well, er its a dye- a chemically created compound with accurate formulation. the printer is optimized for a4 borderless, pocket album size photo and printing on disk. a variety of page types can be used to get the desired results. but the printer is inherently slow at printing. it clocked 6 pages per minute in full page monochrome documents while took around 5 minutes for printing out a full page (a4) borderless photograph.
ink refills and cpp
ink refills for the epson l850 can be bought online or from epson stores for refilling its ink tanks. one bottle contains 70ml of ink and according to the iso/iec standards epson claims 3000 prints per black ink bottle and 5400 per color one. the yield will largely vary on the printing habits but comparing the similar standard figures with other printers, printer don't get beyond 1500 prints. plus we couldn't find the ink levels falling below a quarter after printing hundreds of test pages, and a dozen borderless photo prints.
final verdict the epson l850 perfectly suits a business requiring to print high quality color prints at low cost. it can print only up to a4 sizes and a host of new-age features are missing on it. it is as slow as the slowest photo inkjet we have seen and doesn't have network connectivity onboard. but its 6 ink system can create professional quality photo prints and at a price that we haven't come across either. the pc-less printing features work well, fully integrated into its improved interface. the epson l850 is perfect for people wanting quality photo prints in good amount, at lowest running cost one can imagine of a setup this small.
general specifications
features:bi-directional printing, uni-directional printing
printing type:colour
printing technology:inkjet
scanner type:flatbed
print resolution:5760x1440 dpi
print speed black:37 ppm
print speed colour:38 ppm
paper size:a4, a5, a6, b5, c6, dl
scanning method:cis
order from rondamo   technologies and receive this product within 24 hrs countrywide
Payment Details
Cash Payments (Nairobi only)
We accept Cash Payments . This is applicable for Pay on Delivery orders within Nairobi Metropolitan area.
Mpesa Payment.
Go to Safaricom SIM Tool Kit, select M-PESA menu, select "Lipa na M-PESA"
Select "Pay Bill"
Select "Enter Business no.", Enter Rondamo technologies Lipa na M-PESA PayBill Number 964586 and press "OK"
Account no. ( Indicate Order No. & Your Name)
"Enter Amount : ( Total shown on Invoice)
Enter your M-PESA PIN and press "OK"
This is applicable for all orders, both in Nairobi & upcountry besides large orders over Ksh 250,000/-
Bank Deposit /EFT
You can deposit payment for your order directly into our Stanbic bank account. We check our bank account for new payments every day but depending on your bank it can take 1–2 business days for your payment to appear. To ensure that we can reconcile your payment quickly please make sure you follow the instructions carefully and include a reference with your payment.
Pesalink
You can deposit payment for your order directly into our Stanbic bank account via Pesalink. all products are eligible for payment via Pesalink. To ensure that we can reconcile your payment quickly please make sure you follow the instructions carefully and include a reference with your payment.
Delivery Terms
Accurate delivery estimates are displayed on the product page and in the Checkout before you confirm your order.
Delivery estimates take into consideration both the delivery address and the types of products being ordered.
The remainder of this article discusses delivery times in more general terms.
Same Day Delivery / For Customers in Nairobi Metropolitan Area
We use Courier for these orders, which allows fast and reliable delivery to destinations across their comprehensive domestic network. Orders placed between 7 Am and 5 Pm will be delivered the same day otherwise they will be delivered the following day. Delivery times vary depending on a product's stock status and the intended delivery address. For very large orders, we may be forced to use Mainfreight as these orders lie outside of what Courier Rider services can handle. If your order is being shipped with Mainfreight, this will be indicated in your fulfilment email along with a tracking number.
Overnight Delivery
Most In stock products are delivered overnight anywhere in Kenya – provided the order is placed before the advertised cut-off time. Our Overnight Delivery cut-off is usually 4:30pm Monday to Friday, however, this is updated daily and the expected shipping date will be shown for you on the product page. Larger products take an additional 1–2 days to be delivered.
Evening Express Delivery
Same Day Delivery is available to Nairobi & its suburbs. Same Day Delivery orders are delivered between 4pm and 7pm in the evening on the same day your order is dispatched.
If you are ordering on a business day and before the cutoff time, the option will be called "Same Day Delivery". If you are ordering after the cutoff time or on a weekend or public holiday, the option will be called "Evening Express Delivery". And May incur extra Costs other than the standard shipping fee.